Exclusive
Rosie O'Donnell Wanted Talk Show Based In NYC, Oprah Refused!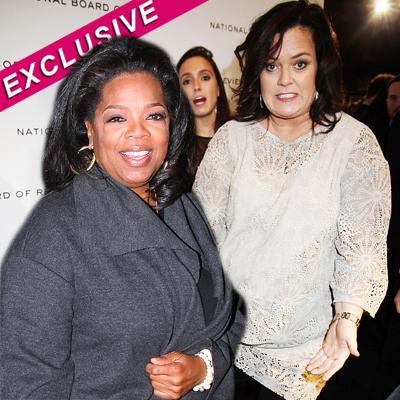 Article continues below advertisement
The former co-host of The View lobbied Winfrey to relocate to the Big Apple, believing it would fare better in her home town, but the talk show titan refused point blank.
"Rosie pushed for the show to be in New York City," an insider tells RadarOnline.com. "Rosie lives in New York, her family is there, it's where she has had success with her solo talk show. Oprah insisted that the first season be shot in Chicago though because that's where she lives, and it was more cost efficient because Rosie just moved into Oprah's old studio. Oprah had promised to revisit the issue if the show got picked up for a second season."
Even though Rosie bought a house in Chicago, which she has since moved out of and sold, she never felt at home there and was confident the Windy City location wouldn't be conducive to scoring big time celebrity guests.
"Rosie was never happy in Chicago, period," the source says. "The only celebrity that lives in Chicago is Oprah, and it was baffling to Rosie that she wouldn't let her have her show in New York City. What celebrity wants to go to Chicago, which isn't a media metropolis like Los Angeles or New York City?"
Article continues below advertisement
As RadarOnline.com previously reported, Oprah and Rosie also feuded over the language of the press release that announced the cancellation of the show.
"At one point during discussions, the OWN PR team got a phone call from Rosie's camp, explaining what needed to be included into the press release," the insider claimed. "This is Oprah's network though and she has the final say. Oprah told her staff to have Rosie call her directly to address her concerns, but she never did. Rosie was having her people do all the dirty work for her."
In a statement announcing the cancellation of Rosie's show, Winfrey said: "I thank Rosie from the bottom of my heart for joining me on this journey. She has been an incredible partner, working to deliver the best possible show every single day. As I have learned in the last 15 months, a new network launch is always a challenge and ratings grow over time as you continue to gather an audience. I'm grateful to Rosie and the dedicated Rosie Show team for giving it their all."