Oprah Winfrey Cancels Rosie O'Donnell Talk Show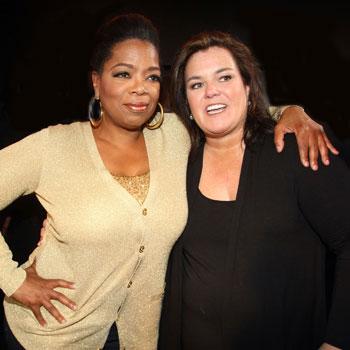 That was fast. Just five months after it premiered amid great fanfare, The Rosie Show has been canceled by OWN, Oprah Winfrey's ratings-challenged cable net.
In a statement she released Friday night, Oprah said, "I thank Rosie from the bottom of my heart for joining me on this journey. She has been an incredible partner, working to deliver the best possible show every single day. As I have learned in the last 15 months, a new network launch is always a challenge and ratings grow over time as you continue to gather an audience. I'm grateful to Rosie and the dedicated Rosie Show team for giving it their all."
Article continues below advertisement
The final episode will tape March 20 and air March 30.
Rosie O'Donnell had relocated to Chicago to tape her show in the same studio where Oprah had become a legend. The magic didn't wear off. The show had only about 200,000 viewers when the plug was pulled.
"It was a great year for me -- I wish the show was able to attract more viewers -- but it did not," O'Donnell said. "So I am headed back to my home in New York - with gratitude. On we go!"