Exclusive
Rosie O'Donnell & Oprah Winfrey Aren't Speaking To Each Other!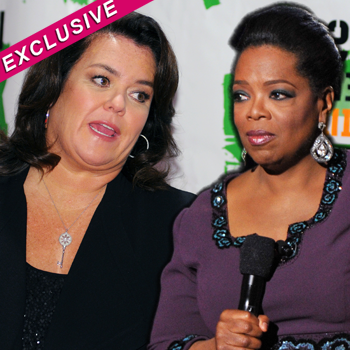 By Jen Heger - Assistant Managing Editor of Radar
It's becoming the battle of the talk show queens, as Rosie O'Donnell and Oprah Winfrey aren't talking to each other after Ms. O's decision to cancel Ro's talk show on her embattled cable television network, RadarOnline.com is exclusively reporting.
As we previously reported, Winfrey decided last week to pull the plug on O'Donnell's talk show because of abysmal ratings. "It was such a f**king hellhole," one former staffer told The Daily Beast in an in-depth look at what went wrong with the show.
Article continues below advertisement
Winfrey did call Rosie to tell her that the show was being canceled and "it was a very strained conversation, obviously," according to a source close to the situation. "Oprah wanted to handle the announcement of the cancellation in a professional and dignified manner. Rosie thanked Oprah for the opportunity and ended the conversation very abruptly. OWN's public relations team and Rosie's publicist handled the language in the press release. Rosie didn't like the initial language of the press release because she felt that it placed sole responsibility of the failure of the show on her. Oprah didn't need to get Rosie's input or approval for the press release, but she was trying to be gracious. Up until the moment that the press release was sent out, Rosie wanted changes made, but Oprah instructed the release to go out, because it needed to go out, and she was just over the drama," the source added.
In a statement announcing the cancellation of Rosie's show, Winfrey said: "I thank Rosie from the bottom of my heart for joining me on this journey. She has been an incredible partner, working to deliver the best possible show every single day. As I have learned in the last 15 months, a new network launch is always a challenge and ratings grow over time as you continue to gather an audience. I'm grateful to Rosie and the dedicated Rosie Show team for giving it their all."
Article continues below advertisement
At one point during discussions over the press release announcement, OWN's public relations team "got a phone call from Rosie's camp, explaining what needed to be included into the press release. This is Oprah's network, and she has the final say. Oprah told her staff to have Rosie call her directly to address her concerns. Rosie never called Oprah. She was having her people do all the dirty work for her," the insider added.