VIDEO: Meredith Vieira's Emotional Farewell On The Today Show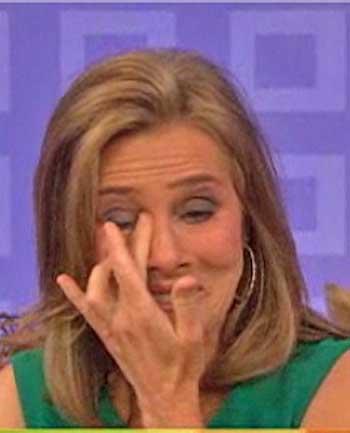 On her last day Wednesday, The Today Show paid homage to outgoing anchor Meredith Vieira.
In a montage of highlights from Vieira's 5-year run, we saw her interviewing movers and shakers like Pres. Barack Obama, Lady Gaga, Jerry Seinfeld and Donald Trump, among others.
We also saw Vieira covering key historical events like 2007's Virginia Tech massacre, Michael Phelps' domination of the 2008 Olympics and Michael Jackson's 2009 death. In addition, we saw how she was a key factor in the unlikely success of the Oscar-winning film Slumdog Millionaire.
Article continues below advertisement
"I have never enjoyed working with anyone as I have enjoyed working with Meredith," her co-host Matt Lauer said.
After the montage aired, a teary Vieira, 57, was given a round of applause from her colleagues, saying she was "honored" to have worked with them.
Watch the video on RadarOnline.com
As previously reported, Ann Curry will take over Vieira's spot, while Today Show 9 am anchor Natalie Morales takes over Curry's news spot. White House correspondent and MSNBC personality Savannah Guthrie will take over the 9 am anchor slot.