Exclusive
Ann Curry's Kids Didn't Come To Today To See Justin Bieber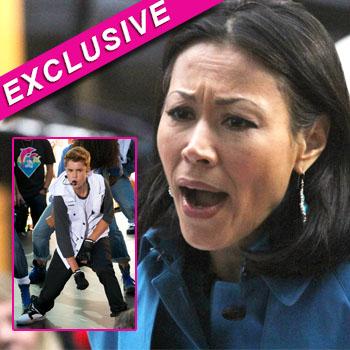 Article continues below advertisement
Ann Curry replaced Meredith Viera just a year ago, and the show has been beaten in the ratings by Good Morning America several times since then.
A source tells RadarOnline.com that on the morning of the Biebs appearance, the green room was "overrun with kids of the staffers at NBC trying to meet Justin. Al Roker's and Matt Lauer's kids were there, but surprisingly, Ann Curry's children, McKenizie and William weren't."
"Ann was overheard saying that it wasn't her kids thing, and she just didn't feel comfortable bringing them to the set that day. Ann is very low key and doesn't want her kids to get jaded by having such easy access to celebrities. Ann's kids are very well adjusted and down to earth, and she is going to keep it that way," the insider says.
Curry "has just never been comfortable with celebrities and pop culture, which absolutely isn't a bad thing. Ann is hard news, period, and shines when she is doing reporting from Darfur, and other far flung places," the source adds. "That is when she is in her element, and the viewers see that. Morning news now isn't as focused as heavily on news, but more on celebrity and that just isn't what Ann is passionate about. Ann is a first class journalist, and frankly, she is too talented to be anchoring the morning news, she would be a much better fit in prime-time," the insider says.