Exclusive
Hoda Kotb Is Frontrunner To Replace Ann Curry On Today, Says Source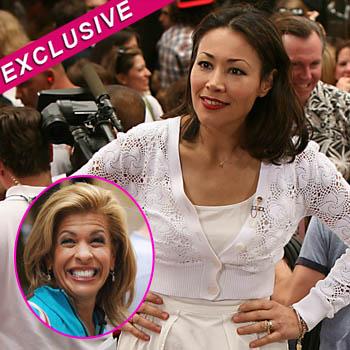 Article continues below advertisement
Kotb, who has been with the Peacock network since 1998 and co-hosts the fourth hour of Today with Kathie Lee Gifford, "could replace Ann Curry. Hoda scores off the charts in focus groups, and the audience can relate to her," a show insider tells us.
"Hoda has a hard news background but is extremely comfortable discussing pop culture issues. She just has a warmth that viewers find comforting. She was very public with her breast cancer battle, and allowed cameras to follow her during her cancer treatments on Today. Hoda is a team player, and is so well liked by everyone at the show, most importantly, Matt Lauer. They have a very easy rapport and mutual respect. Hoda even recently interviewed Matt for a Hamptons Magazine profile on him," the insider says.
Kotb gushes about Lauer in the Hamptons interview, and says, "Matt is hands-down the most talented journalist I have ever seen, and he is one of the funniest people I know. He is also compassionate, and I think it's that characteristic that drives him to motivate others to take care of their community."
Media reports have speculated that Savannah Guthrie could replace Curry, but our source says, "the problem with Savannah is that in focus groups, she just doesn't score as high as Hoda does. NBC has been conducting focus groups to assist the network executives in determining who should replace Ann. Savannah is an extremely talented journalist, and she is extremely bright, but she only recently joined Today and viewers just aren't as comfortable with her."
Article continues below advertisement
NBC is under tremendous pressure to find "the perfect replacement, and quickly, because the Olympics are approaching, which they are broadcasting. NBC is counting on Today to deliver huge ratings during the Olympics. They need the new team in place, and quickly. The original plan had been for Hoda and Kathie Lee to stay in New York City and do the fourth hour from the set. However, Hoda is now being asked to go cover the Olympics in London," the source says.