Is Kathy Griffin Banned From The TODAY Show Or Not?!!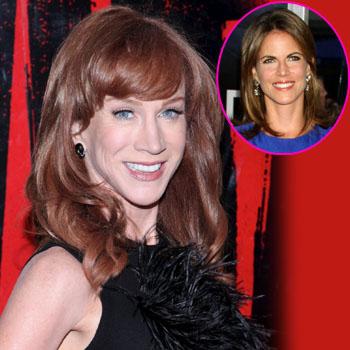 Article continues below advertisement
"Katie Couric at one point. Matt Lauer at one point. This time my camp heard that it was actually Natalie Morales," she told USA Today.
Kathy said that the hammer came down after she was rude to Natalie, but Morales claims that nothing happened.
"What I heard from their team is that I was rude to her at the Golden Globes, which is funny because I didn't go to the Golden Globes.
"But I did go to Golden Globes parties, which I didn't really belong at, so I know for a fact that I did a few interviews there, but I really knew that it wasn't my place to even be there."
However, Natalie denied the claim, calling it "bogus" on her Twitter account.
"Did you really get @kathygriffin banned from the today show? Meow. Girls don't play nice," a follower wrote and Natalie slammed the report, writing, "No. Total bogus PR."
Kathy says that her feuds with Katie and Matt are both over now.
"(Katie) wasn't a fan for a while and finally came around," she said. "We e-mail."
"(Matt) was over my crap," she also said. "I made fun of him so much, and then I ran into him later at an NBC event, and I think he finally got it: "OK, it's a joke. She's kidding."'
Article continues below advertisement
Meanwhile, TODAY has backed up Morales, insisting that Griffin is NOT banned from the show.
PHOTO: Kathy Griffin In A Bikini Saluting The Troops!
"The idea that TODAY show anchors and hosts ban guests from appearing on the show is silly," the show says in a statement. "There was no incident between Natalie and Kathy at the Golden Globes or anywhere else. In fact Natalie is a big fan of Kathy's."
Kathy's new self titled show will premiere on Bravo on April 19 at 10 p.m.