Jon Stewart Lambasts Sarah Palin's Today Show Appearance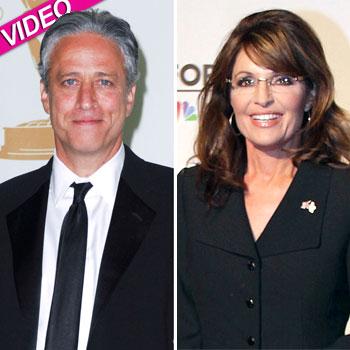 Article continues below advertisement
"She was performing a medley of her greatest hits including, 'I don't read newspapers,' to 'I write on my hand,' to that old chestnut, 'I passively aggresivley hate Matt Lauer with every ounce of my being,'" he joked, while airing a clip of her bantering with the full time anchor.
"Thanks for letting me crash your dressing room," said Palin while she pretended to preen in front of the mirror, to which Lauer replied: "Technically, I didn't give you permission to be in there."
As RadarOnline.com previously reported, Today contributor Star Jones was far less impressed that the hard-line Republican was allowed to share camera time with her.
"Star was watching the interview in the green room and she was absolutely floored that Sarah Palin as a guest on the Today show was basically calling everyone on set lame," a show insider told RadarOnline.com exclusively.
"Star was incensed that Sarah was allowed to make such inflammatory comments. Star is the consummate professional and couldn't fathom why Sarah would be so negative as a guest and Star was livid about the comments."
Article continues below advertisement
In his review of the special episode, Stewart revealed: "The former Alaskan governor was actually quite good and likeable. My issue is not how I view Governor Palin as a host of the Today show," he explained. "It was mostly with how Governor Palin seemed to view it."
Before taking her place on the famous couch, the former Alaskan governor took to Twitter. "Going to go rogue and infiltrate some turf," she wrote.
"Do you really believe co-hosting the Today show is entering the lion's den?" marveled Stewart, while laughing at the "Jesus fish earrings and an 'Iwo Jima-sized' American flag lapel pin" that she sported.
"You're there to talk about party planning with Tori Spelling," he laughed. "You're pretending this whole appearance is some uncommonly ballsy way of sticking it to the 'lamestream media.' It's just another way for you to tout your brand of homespun nonsense unchallenged.
Article continues below advertisement
"It doesn't matter if it doesn't make any sense, people are watching it at 7 a.m. while mistakenly buttering Pop Tarts."
PHOTO: Julianne Moore As Sarah Palin In HBO's Game Change
The political pundit also took issue with Palin's complaining about President Barack Obama's "socialist" agendas, along with her promoting her world view of "patriotism and conservatism," even when asked a simple question about Oprah Winfrey.