Jon Stewart Slams CNN's Coverage Of Whitney Houston's Death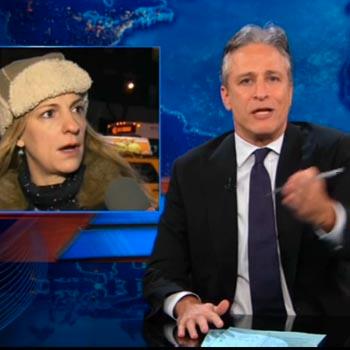 By Debbie Emery - RadarOnline.com Reporter
Jon Stewart is not known for holding his tongue about topics he feels passionately about, and the target of his wrath this week is news giant CNN and the bizarre way they handled Whitney Houston's death.
On Monday's episode of The Daily Show, Stewart said he wasn't going to dwell on the tragedy of the singer's passing on Saturday because his show could not cover it with the "right authority, class and grace," before adding, "But you know what's interesting? Neither could CNN."
Article continues below advertisement
The political satirist went on to reveal how CNN reporters had gone up to people on the street to notify them of Houston's death, and then filmed their shocked reactions.
"You can't just wander the streets with a camera crew surprising people who don't know someone famous has died!" he exclaimed.
"I thought the whole point of broadcasting your signal is that you don't have to go with the news door-to-door, town crier style," marveled Stewart, before comparing CNN's approach to the way "they pass out nail salon coupons" in Times Square and Candid Camera.