Seth MacFarlane Remembers 'Angry Call' From Jon Stewart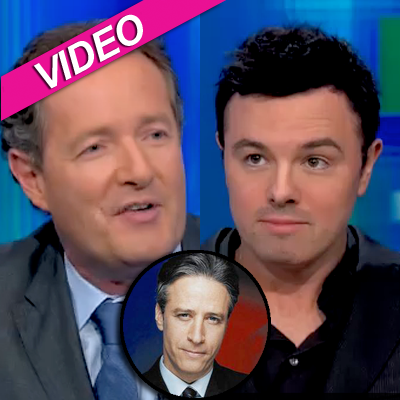 Family Guy creator Seth MacFarlane tells Piers Morgan Wednesday that TV personality Jon Stewart placed "an angry call" to him over a joke on his animated show, that knocked Stewart for working through the 2008 writer's strike, and RadarOnline.com has the video clip.
"It is incumbent upon people in a certain position to stand up for the people who haven't made it yet," MacFarlane, who was admittedly "measured" with his words, explained as his rationale behind the dig at Stewart.
Article continues below advertisement
"I do think he was wrong not to shut his show down," the 37-year-old animator said. "I disagree with his actions there, but... the gag we did on Family Guy was coming from the right place, but so over-the-line in its ruthlessness, it could have been measured better in his execution."
Seth MacFarlane On Roasting Charlie Sheen: 'Look At All This Comedy!'
Despite the contentious chat, MacFarlane said his high respect for Stewart is essentially what led to the bit in the first place.
"He's an important voice for the sphere of rational thought that exists less and less in this country... which is why I was frustrated," he said, noting Stewart's "the good guy" and "the guy who should be standing out there with us.
Christine O'Donnell, Upset At Gay Marriage Questions, Walks Off Piers Morgan
"I was frustrated," he said, "and that was my beef."
The full interview airs on Piers Morgan Tonight on CNN Wednesday at 9 pm ET/ 6 pm PT.