Billy Ray Cyrus: Controversial GQ Interview 'A Big Mistake'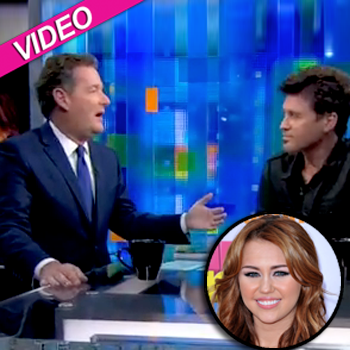 By Adam S. Levy - RadarOnline.com Staff Writer
It was in March when Billy Ray Cyrus told GQ magazine that the show Hannah Montana destroyed his family, claimed he was scared his daughter Miley was falling into the trappings of fame, admitted he should have been more involved as her father, and said he had "no doubt" Satan was attacking his clan.
Well just a few months later, the country singer regrets splitting his guts over the personal confessions he made to the men's magazine.
Article continues below advertisement
"I realized that I made a big mistake even giving that interview," he told Piers Morgan Tuesday. "It was the darkest time of my life. Of dark. Not -- I mean, it was dark. And turbulent and that would have been a real good time for me to probably go sit by the fire alone, you know?
"That wasn't a good time for me to do an interview -- I'm sure of that. I was definitely dealing with a lot in my world ... I felt like and still feel like that, you know, my family was the definition of my life ... and I seen it coming unraveled. And again, probably even more so makes sense why it wasn't a really good time to give that interview."
Cyrus said at the time, he was feeling sorry for himself because of a number of family problems, including estrangement from his wife, and a chilly relationship with his world famous daughter.
Watch the video on RadarOnline.com
The interview "had been set up for quite some time; the interview was supposed to happen," Cyrus said. "It just wasn't supposed to happen like that. But I kind of look back on it, you know, I go, man, it's like everything in life ... you made some good calls, you make some bad ones. And what you got to pray for is to know the difference between the two, and to be able to make adjustments."