NEW INTERVIEW: Miley Cyrus: 'I Mess Up--There You Go!'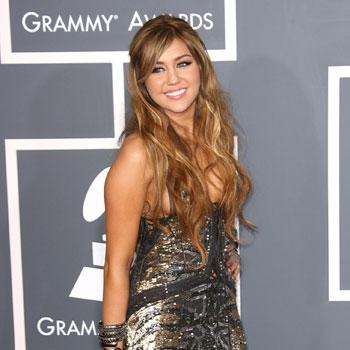 Miley Cyrus may flub a line or miss a step every now and again, but the Hannah Montana star gleefully admits it: "I mess up -- there you go!"
"But if you live your life trying to be perfect, you don't really live your life ever, because you don't really make any mistakes and at the end of your life you won't be very smart or wise." the teen told Australia's Telegraph in promotion of her first tour down under this June.
Article continues below advertisement
And don't expect a Miley Vanilli show either, as the singer proudly told the paper: "I don't lip-sync.
"I would rather someone say I sang like crap, than have people see me lip-sync," she said, after artists such as Britney Spears have come under fire for shows that appear to be more canned and less organic.
Miley Cyrus Puts An End To Hannah Montana
Miley also took an opportunity to knock the recent overnight success of Rebecca Black, whose catchy viral hit Friday has dominated social media forums going on more than a week.
"It should be harder to be an artist," Miley said. "You shouldn't just be able to put a song on YouTube and go out on tour."
Miley has encountered her fair share of scandal in recent times - she was captured on video smoking a bong packed with Salvia, a supposedly-hallucinogenic herb that's legal in California. "I'm having a little bit of a bad trip," a disoriented Cyrus said in the video. "I want more of that s---."
Article continues below advertisement
EXCLUSIVE: Who Is The Mystery Hollywood Star Caught On Camera Snorting Cocaine?
She was also pictured performing a raunchy lap dance for her Last Song director, Adam Shankman and photographed swigging a bottle of beer in a European nightclub when she was just seventeen.
But, Miley is keen to put the past behind her and wants to hit the headlines for her talent rather than her scandalous antics, telling the Telegraph about her upcoming Antipodean tour:''I want to show people who I really am more than just what they see on TV.
''It's going to be different to all my other tours. It's all about the music. There'll be acoustic things, songs I've never done on tour before.
Bikinis! Disney Stars Stripped DownBikinis! Disney Stars Stripped Down
"I want to make it special. I've never toured Australia before. It's going to be really personal. I want to take requests from the fans.
''My last tour was all about how many costume changes we could do. This tour is not about that.''