Christine O'Donnell, Upset At Gay Marriage Questions, Walks Off Piers Morgan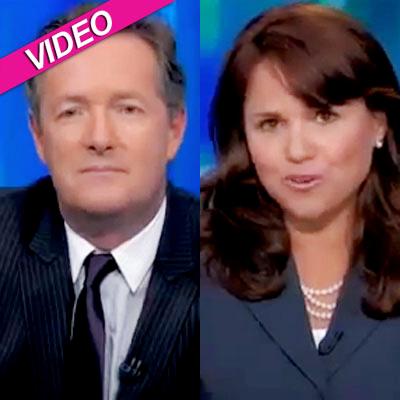 By Adam S. Levy - RadarOnline.com Staff Writer
Christine O'Donnell, flustered with Piers Morgan's repeated questions regarding her views on same-sex marriages, walked off his set mid-interview, making for an awkward exchange that's got viral video written all over it.
O'Donnell, via satellite, appeared on the CNN show Wednesday night to promote her new book Troublemaker: Let's Do What It Takes to Make America Great Again, which details her views on a number of political topics, including same-sex marriage.
Article continues below advertisement
The sticking point was that the controversial Delaware Republican wanted to keep the conversation restricted to her time with CNN, which didn't fly with Morgan.
"What is your view of gay marriage?" Morgan asked the passive-aggressive politician, who responded, "I address that stuff in the book."
"You can't -- you're on here to promote the damn book," Morgan said. "So, you can't keep saying it's all in the book. You got to repeat some of it."
More prodding led O'Donnell to tell Morgan, "You're borderline being a little bit rude now."
VIDEO: Was Sarah Palin Booed At DWTS? ABC Explains Mystery Jeering
She said any talk of same sex marriages would be irrelevant, as it's not at the forefront of her political agenda these days.
"It's not a topic that I choose to embrace -- I'm not championing it right now -- I've been there, done that, gone down that road," she said.
Article continues below advertisement
After more hemming and hawing, Morgan asked O'Donnell, "Why are you being so weird about this?" to which she said, "I'm not being weird. You're being a little rude."
Tea Party Member Christine O'Donnell Debating About Dancing With The Stars
"I'm baffled as to why you think I'm being rude," Morgan told her. "I think I'm being rather charming and respectful. I'm just asking questions based on your own public statements and now what you've written in your own book. It's hardly rude to ask you that, surely."
"Well, don't you think as a host, if I say this is what I want to talk about, that's what we should address?" O'Donnell asked.
"Not really, no: You're a politician," Morgan said, at which point O'Donnell began removing her microphone and preparing to leave during the broadcast.
EXCLUSIVE: Christine O'Donnell Sex Accuser Shopped Story For $25,000
"I'm being pulled away. You know, we turned down another interview for this," she said, essentially telling Morgan if they weren't going to chat about the issues she waned to, they weren't gonna chat at all.
Article continues below advertisement
Morgan kept cool throughout the testy exchange, even extending a personal invitation to O'Donnell to appear on Thursday's show to address the walk-off.
"I promise not to be even remotely rude," he said.
O'Donnell responded via her Twitter page, telling Morgan, "Piers, thanks for the invite. Schedule is already packed, maybe another night.
"No hard feelings, you cheeky bugger."