PHOTOS: How Hollywood's Gay Stars Come Out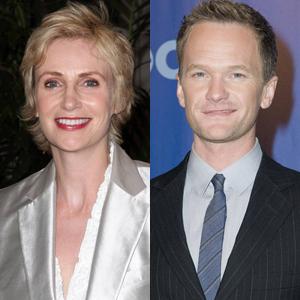 The 'are-they-or-aren't-they' question can be a struggle for any Hollywood actor attempting to keep their public life secret.
The stigma of being a gay entertainer has kept many in Tinseltown from coming out of the closet, unsure if the public would support their decisions or whether they'd be as popular if their true sexual preferences were known.
As RadarOnline.com discovered, celebrities' decision to reveal their sexuality seems to follow a pattern: stars announce the news in the medium they feel comfortable with – either on television, on stage or in a magazine
Article continues below advertisement
Day time talk show host Ellen DeGeneres came out in 1997.
"When I decided to have my character on the show come out, I knew I was going to have to come out, too," DeGeneres told Time magazine.
The episode where her character Ellen on her television show came out aired April 30, 1997.
"But I didn't want to talk about it until the show was done," Ellen said.
"I never wanted to be the lesbian actress. I never wanted to be the spokesperson for the gay community. Ever. I did it for my own truth."
Her announcement sparked outrage from right-wing religious leader Jerry Fawell, who openly mocked her by calling her Ellen "Degenerate".
She responded to the magazine: "Really? He called me that? I've been getting that since the fourth grade."
Ellen married Portia de Rossi in an elaborate ceremony in August 2008 and Portia changed her name to DeGeneres in 2010.
Portia told the Advocate magazine when she finally came out in Hollywood people didn't believe her.
Article continues below advertisement
She said, "I had a hell of a time convincing people I was gay -- which was so annoying!
"First of all, you live with the fear people might find out. Then you actually have the courage to tell people and they go, 'I don't think you are gay.'"
Neil Patrick Harris also told People magazine that he was gay in 2006.
Lady Gaga: Prop 8 Overturning Felt Like A "Revolution"
The How I Met Your Mother star said, "So, rather than ignore those who choose to publish their opinions without actually talking to me, I am happy to dispel any rumors or misconceptions and am quite proud to say that I am a very content gay man living my life to the fullest."
*NSYNC boy band member Lance Bass came out to People magazine in 2006 in a cover story.
"I'm Gay" the cover read -- and the singer said he was glad to reveal his sexual orientation.
"The thing is, I'm not ashamed—that's the one thing I want to say," Bass told the magazine. "I don't think it's wrong, I'm not devastated going through this. I'm more liberated and happy than I've been my whole life. I'm just happy."
Article continues below advertisement
American Idol contestant Clay Aiken also came out to People magazine.
Following the birth of his son, he told the magazine that he was gay.
"It was the first decision I made as a father," Aiken said. "I cannot raise a child to lie or to hide things. I wasn't raised that way, and I'm not going to raise a child to do that."
Glee star Jane Lynch spoke about coming out to her parents, which she didn't do until she was in her 30s.
"I didn't want to be gay," she told London's the Sunday Mirror about the decision. "I wanted an easy life. And you know what? I am gay and I still have an easy life."
Lynch married her partner Lara Embry in 2010 in Massachusetts on Memorial Day.
She told a crowd at Outfest about her sexuality being known in Hollywood.
"I really started to be known when I was 40 and I was a big les by then, I wasn't turning back. There were stories to be told if I denied it. I didn't have a moment's worry about it at all."
Article continues below advertisement
Rosie O'Donnell was performing at an Ovarian Cancer Research benefit when she came out in 2002.
The talk show host announced "I'm a dyke!" and also said, "I don't know why people make such a big deal about the gay thing... People are confused, they're shocked, like this is a big revelation to somebody."
Rosie married Kelli Carpenter in 2004 in San Francisco, California after Mayor Gavin Newsom granted marriage licenses to same sex couples.
The couple later split in 2007 but O'Donnell didn't announce the split until 2009.
Rosie O'Donnell Lands New Show On Oprah's Network
Others to come out included pop singer Ricky Martin, who announced on his website in March, 2010 that he was gay after years of speculation, while singer Melissa Ethridge chose President Bill Clinton's Inauguration in 1993 at the Triangle Ball, the first ever to be held in honor of gays and lesbians.
Article continues below advertisement
Etheridge had two children via sperm donor David Crosby with her partner Julie Cypher but the couple broke up in 2000. Melissa married Tammy Lynn Michaels in 2003 and they had twins together. The couple separated in April, 2010.
Sex and the City star Cynthia Nixon also told the Advocate magazine about her coming out.
VIDEO: 'Bachelor' Jake Pavelka Tells The View: 'I'm Not Gay'
Nixon said media surrounding her vacation in 2004 with Christine Marinoni sparked speculation about her sexuality, and she then addressed a plan of action with her manager, who introduced her to Kelly Bush, an openly gay publicist who said Cynthia should just confirm the rumors.
Nixon said she was surprised that she could handle the announcement that way. "And I was like, 'Really, we can just confirm?' So that's what we did. It was so fantastic."