Exclusive
Clive Davis Met With Whitney Houston's Family Before Grammy Party, Relatives Upset Party Proceeded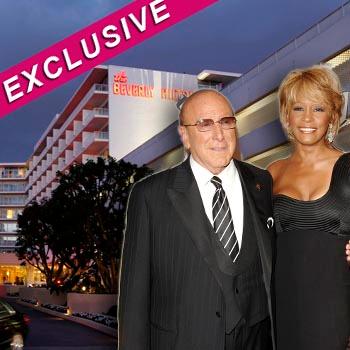 Article continues below advertisement
Houston passed away on Saturday, after she was found unconscious and unresponsive in her bathtub at the Beverly Hilton. The award winning singer was declared dead by paramedics at the iconic hotel at 3:55 p.m. PST. She was 48.
Davis had a suite at the hotel and met with Bobbi Kristina and Whitney's extended family who had planned on going to the star studded bash with her. Houston wasn't scheduled to perform.
"The mood in the suite was just that of pure shock. Bobbi Kristina was absolutely inconsolable, she was rocking back and forth on the couch, crying hysterically," a family insider tells RadarOnline.com. "Clive was already dressed in his tux and most of Whitney's family was already dressed for the party. There wasn't any mention of the party proceeding or being canceled by Clive. He told Whitney's family that they could stay in his suite as long as they needed to, and then after about 45 minutes with them, he left. He said he had to go downstairs and take care of the guests, but the family had no idea that the party was going to proceed. Whitney's aunt, Mary Jones, was absolutely stunned that the party was going ahead, and she was very upset that it hadn't been canceled."
Article continues below advertisement
The tone of the party was obviously much more subdued though and Davis told his guests: "I don't have to mask my emotions. I do have a very heavy heart. I am personally devastated. She was so looking forward to tonight. My heart goes out to her daughter, Bobbi Kristina, and her mother, Cissy. Whitney was a beautiful person and she had a talent beyond compare. She graced this stage with her regal talent so many times. So, simply put, Whitney would have wanted the music to go on."
However, those words don't resonate with Houston's family. "Even IF Whitney had given her blessing for the party to continue, even that doesn't make it ok. Her body was lying in a room upstairs, dead, for heaven's sake. It was simply in bad taste, period," the source says. "The family just feels like it was very insensitive for the party to continue. Yes, guests were on the way to the hotel at the time when they learned the news, but they could have had a prayer in the ballroom, and then Clive could have, and should have, sent everyone home. The food could have been donated to a local homeless shelter."
Article continues below advertisement
As RadarOnline.com previously reported, hotel management and security asked the Los Angeles County Coroner to not remove Houston's body until after the party was over. "Out of respect for Whitney Houston, the higher ups at the Beverly Hilton asked the Coroner to delay removing her body until after the party was over and winding down. It would be insensitive for the van to be driven out with her body as limos were pulling away with the A-list guests. There were also security concerns and all efforts were made so that the media or someone else wouldn't get a picture of Whitney's body (which was covered) being loaded into the van," an insider says.
Whitney's funeral is scheduled to take place in New Jersey this Saturday.
Clive's spokesperson released the following statement to RadarOnline.com: "This story is categorically false. This supposed in-person meeting never took place and Mr. Davis never left the main floor of the hotel. Mr. Davis, who is mourning the loss of his beloved Whitney, has nothing but the utmost love and respect for the entire Houston family. The evening was a heartfelt, moving musical tribute dedicated to Whitney."