Whitney Houston Death: Not Homicide, Investigation In Hands Of Coroner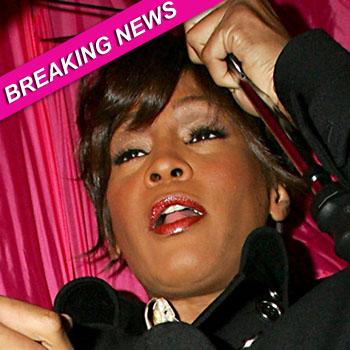 By Amber Goodhand - RadarOnline.com Reporter
The Beverly Hills Police Department held a press conference on Monday morning to discuss the death of Whitney Houston, revealing that they've concluded their preliminary investigation and have handed it over to the coroner's office.
The spokesperson confirmed that Whitney's body was initially found in the bathtub of her fourth floor Beverly Hilton Hotel room by a member of her personal staff, and was moved by a person or persons prior to any medical personnel arriving on the scene.
Article continues below advertisement
"We have concluded our portion of the investigation at the hotel," the spokesperson said, noting that it was an active death investigation — not a homicide investigation. "As of right now, it's a coroner's case."
The BHPD was careful not to disclose any information other than to say that the investigation is sealed and specifics about the case, including the 911 call, are pending and aren't expected to be released until after the investigation is complete.
As RadarOnline.com reported earlier today, Whitney's body was released from the Los Angeles County Coroner's Office to her family so they can hold a funeral, which is expected to take place this week in New Jersey.
PHOTO: Crime Lab Van At The Beverly Hilton Hotel
The spokesperson would not comment on whether or not Whitney's daughter, Bobbi Kristina, was allowed in the hotel room.
But as we exclusively reported on Sunday, Bobbi was rushed to the hospital yesterday for the second time in 12 hours and released shortly after.
Article continues below advertisement
"She tried to ease the pain of losing her mother by having a few alcoholic drinks," an insider said. "She was distraught, on the verge of a complete breakdown. Not knowing what to do, members of her mother's entourage tried to calm her down with a sedative. The two were an unfortunate mix and she ended up passing out."
Whitney, 48, was pronounced dead at 3:55 p.m. on Saturday, February 11. Insiders tell us law enforcement officials found Lorazepam, Valium, Xanax and sleeping medication in the hotel room where she died.