Whitney Houston's Body Released To Family; Funeral To Be Held In New Jersey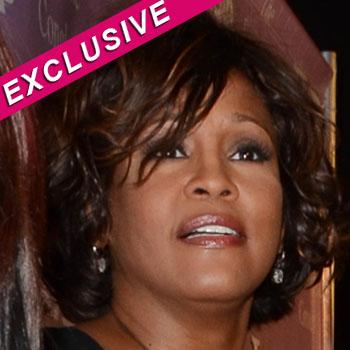 Coroner's officials in Los Angeles Monday made the body of Whitney Houston available to her family, as they have finished their investigation in the wake of the singer's untimely death at 48 on Saturday.
Houston's funeral is expected to be in her native New Jersey. NBC reported that her body will be transported from L.A. to Newark Monday evening, and that the singer will be laid to rest at the Hope Baptist Church later this week.
Article continues below advertisement
"The investigation is ongoing," according to Los Angeles Assistant Chief Coroner Ed Winter. "It's too early to tell. The family is making arrangements. I don't know when the family is going to have her body picked up. But they are making arrangements and sometimes it takes a couple days."
As we previously reported, officials have wrapped up Houston's autopsy, but said it might be several weeks before they can determine what killed the Grammy-winning singer. A source told us exclusively law enforcement officials found Lorazepam, Valium and a sleeping medication in the Beverly Hilton hotel room she was found in.
On Monday, the Houston family released a statement to the public: "We are devastated by the loss of our beloved Whitney. This is an unimaginable tragedy and we will miss her terribly. We appreciate the outpouring of love and support from her fans and friends. The Houston Family."
In related news, Houston's ex Bobby Brown flew back into Los Angeles International Airport late Sunday to be at the side of the couple's 18-year-old daughter Bobbi Kristina, who's been hospitalized twice in the wake of her mother's passing. Since Houston's death, Bobbi Kristina has been hospitalized twice in a 12-hour span at Cedars-Sinai Medical Center.
Article continues below advertisement