Exclusive
Coroner Asked NOT To Remove Whitney Houston's Body Until AFTER Clive Davis Party Finished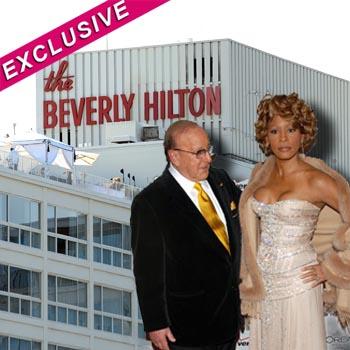 Article continues below advertisement
The tragic death happened just hours before Clive Davis' annual pre-Grammy bash took place, however, the party went on as scheduled, albeit with a much more subdued and somber tone. Davis addressed his guests during the party and said that Whitney would have wanted the party to go on.
"I don't have to mask my emotions. I do have a very heavy heart. I am personally devastated. She was so looking forward to tonight," Davis said. "My heart goes out to her daughter, Bobbi Kristina, and her mother, Cissy. Whitney was a beautiful person and she had a talent beyond compare. She graced this stage with her regal talent so many times. So, simply put, Whitney would have wanted the music to go on."
PHOTO: Crime Lab Van At The Beverly Hilton Hotel
Hotel management and security asked the Los Angeles County Coroner to not remove Houston's body until after the party was over. "Out of respect for Whitney Houston, the higher ups at the Beverly Hilton asked the Coroner to delay removing her body until after the party was over and winding down. It would be insensitive for the van to be driven out with her body as limos were pulling away with the A-list guests. There were also security concerns and all efforts were made so that the media or someone else wouldn't get a picture of Whitney's body (which was covered) being loaded into the van," a source close to the situation tells RadarOnline.com.
MORE ON:
Beverly Hilton Hotel
Article continues below advertisement
The Los Angeles County Coroner agreed since the cops hadn't actually finished their on-scene investigation until the party had begun winding down. "It wasn't like the Coroner waited a long time for her body to be transported to the morgue. The death investigation concluded shortly after 11 p.m., and Whitney's body was removed shortly after midnight," the insider says.
Law enforcement officials said earlier Monday that Houston's death wasn't being investigated as a homicide, and that the Los Angeles County Coroner was handling the case as a death investigation.