Whitney Houston's 'Secret Son' Tweets Remembrance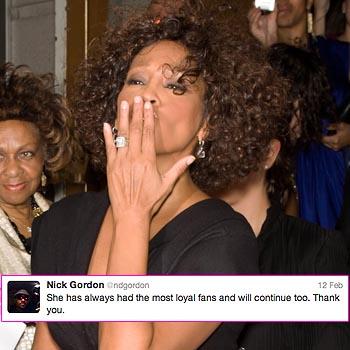 Whitney Houston's secret son has spoken out over the loss of the woman who gave him her love, RadarOnline.com is reporting.
As news of the singer's death broke on Saturday, tributes poured in from celebrities, with many sending their thoughts to Whitney's teenage daughter Bobbi Kristina, however, those who knew Whitney best said they were thinking of Whitney's children -- plural.
Only those close to the singer knew of the existence of Whitney's 'secret son' Nicholas Gordon. While little is known about Nicholas, 22 — who goes by Nick -- it is understood the singer took him in when he was young and treated him as her own. Bobbi Kristina calls Nick her brother, despite no one knowing of the singer ever officially adopting him.
Article continues below advertisement
Nick, who lives in Georgia, took to Twitter to express his grief at the loss of the woman who took him in and gave him a family.
PHOTO: Crime Lab Van At The Beverly Hilton Hotel
Tweeting the simple words "Rest in peace" on the night of Whitney's death Nick used the social networking platform to thank people for supporting him and his family. "She has always had the most loyal fans and will continue to. Thank you," he wrote early on Sunday.
"The Legend will always and forever live on."
Nick and his sister are usually inseparable; however, it is not known if Nicholas has flown out to be with Bobbi Kristina, who was admitted to the hospital twice in the hours following her mother's death.
Nick was with Bobbi Kristina when a fight broke out between them and her ex boyfriend last year. During the fight Nick, drew a gun to try stop the brawl and was later charged with gun possession. Bobbi Kristina was also arrested for being a minor in possession of alcohol.