Who Is Bobbi Kristina Brown? The Daughter Behind Whitney Houston's Legacy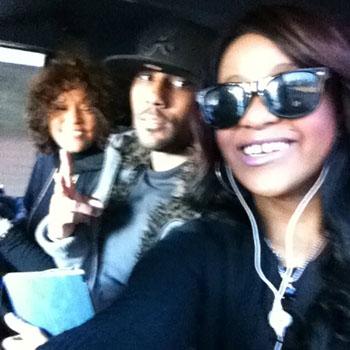 Article continues below advertisement
"She tried to ease the pain of losing her mother by having a few alcoholic drinks," the insider said. "She was distraught, on the verge of a complete breakdown. Not knowing what to do, members of her mother's entourage tried to calm her down with a sedative. The two were an unfortunate mix and she ended up passing out."
Born on March 4, 1993, just eight months after her parents Whitney and Bobby Brown were married, Bobbi Kristina is Houston's only child and Brown's fourth of five (his youngest son, Cassius, is just 2 years old).
PHOTO: Crime Lab Van At The Beverly Hilton Hotel
Despite being an heir to musical royalty, Bobbi Kristina's childhood was far from easy. Both her parents have battled high profile drug problems, with Whitney claiming Brown's drug of choice was marijuana laced with cocaine.
In 2003, Bobbi Kristina's father was arrested when she was just 10 years old, on charges of misdemeanor battery after allegedly striking her mom and shouting epitaphs at her. A year later, he was sentenced to 90 days in jail for missing three months of child support payments.
Article continues below advertisement
Houston filed for divorce in October 2006, and the following April an Orange County, Calif. family court judge granted custody to Whitney, who told the court that she didn't need spousal support and claimed that Bobbi Kristina couldn't rely on her dad.
"He's unreliable," Houston said of Brown, according to the Associated Press. "If he says he's going to come, sometimes he does. Usually he doesn't."
Living her whole life in the spotlight, Bobbi Kristina grew up to follow in her parents footsteps in good ways as well as bad.
On her Twitter page she describes herself as the "Spawn of WH&BB," and the former cheerleader states her profession as: "Dancer. Actress. Musician. Born into Ent."
Along with a passion for music, Bobbi Kristina shared her mother's delicate emotional state and was hospitalized and admitted into a psychiatric ward in 2008 after she reportedly tried to stab Houston during an argument before turning the blade on herself and trying to slit her wrists.
MORE ON:
Beverly Hilton Hotel
Article continues below advertisement
In March 2011, RadarOnline.com revealed that Bobbi Kristina was caught on camera snorting what appeared to be cocaine at a party and friends feared she was on a party path of destruction - smoking marijuana, chugging beer and getting drunk on bottles of Everclear, a 151 proof grain alcohol, reported the National Enquirer.
According to Bobbi Kristina's ex-boyfriend of more than two years, her parents had enabled her to live the unhealthy party lifestyle that she is. "It was difficult to stop Bobbi Kristina from buying alcohol and drugs because her mother gave her $1,000 a week. I saw Krissi do an eight ball – an eighth of an ounce – of cocaine in just two days with friends," he said.
According to the Enquirer, two months later, Bobbi Kristina was involved in a drunken gun brawl with Houston's adopted son, Nick Gordon, 22, and was handcuffed and cited for under age drinking.
The troubled teen was hoping to make her own comeback with a reality show, and she made the big announcement to fans on Twitter last March: "PS EVERYONE ! Guess what ?! _ we are currently in the process of meetings about starting my very OWN! RealityShow!!" she wrote, which again would be following in her parents' footsteps, who starred in their own controversial reality series, Being Bobby Brown, in 2005.
Article continues below advertisement