Celine Dion: Drugs Killed Whitney Houston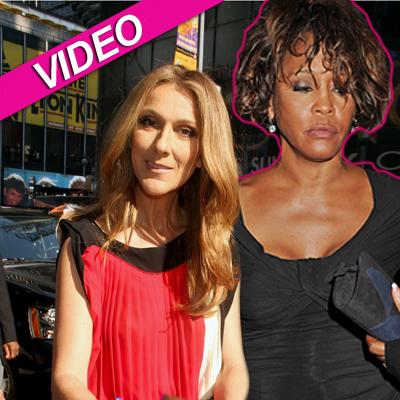 Celine Dion made a Titanic-size gaffe in her appearance on Good Morning America Monday.
The Canadian crooner proclaimed, as fact, that Whitney Houston's death came as a result of drug abuse, despite the lack of official word on what killed the singer at 48.
The My Heart Will Go On singer, in a phone interview, told GMA's Robin Roberts: "Whitney has been an amazing inspiration for me ... it's just really unfortunate that drugs and I don't know ... bad people or bad influence took over. It took over her dreams. It took over her love and motherhood."
Article continues below advertisement
Watch the video on RadarOnline.com
The Grammy-winning singer continued, "When you think about Elvis Presley and Marilyn Monroe and Michael Jackson and Amy Winehouse, to get into drugs like that, for whatever reason. Is it because of the stress and bad influence?
"What happens when you have everything? ... There's something that happens that I don't understand, and that's why I'm so scared," Dion said. "I'm scared of show business, I'm scared of drugs, I'm scared of hanging out, and that's why I don't do parties and hanging out, and that's why I'm not part of show business. We have to be afraid."
Even as Roberts tied to change the subject, Dion prodded on with the uncomfortable lecture.
"Time after time, we lose people ... taking pills to go perform, taking pills to wake up and taking pills to go to bed. It's so unfortunate. I've always said, you have to have fun, and do music, and never be part of show business, because you don't know what it's going to get you into.
"How come it's stronger than all that, stronger than family and motherhood and love itself?"
MORE ON:
Good Morning America
Article continues below advertisement