Exclusive
Star Jones 'Livid' That Sarah Palin Was Featured On Today Show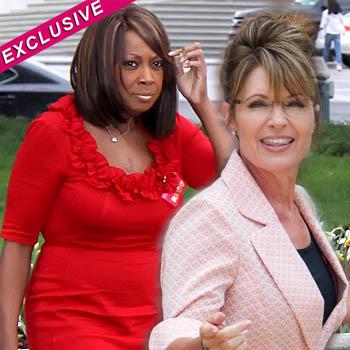 Article continues below advertisement
During Matt Lauer's interview with Palin in the first hour of the show she referred to the press as "lamestream media" at least three times and Jones couldn't believe Matt didn't address those comments. "Star was watching the interview in the green room and she was absolutely floored that Sarah Palin as a guest on the Today show was basically calling everyone on set lame," a show insider tells RadarOnline.com exclusively. "Star was incensed that Sarah was allowed to make such inflammatory comments. Star is the consummate professional and couldn't fathom why Sarah would be so negative as a guest and Star was livid about the comments."
The former co-host of The View was on a panel with Palin, called Ask The Experts, during the second hour of Today. "Star could barely look at Sarah and insisted that she be seated on the opposite end from her," the source says. "Star is a lawyer, a former prosecutor and has worked very hard in her life to get where she is. Star didn't understand why Sarah was on the panel because she doesn't have anything worth contributing. Star also didn't believe Sarah when she said that she hadn't seen Julianne Moore playing her in the movie Game Change."
Article continues below advertisement
A rep for Jones vehemently denies that she was livid about Palin's appearance.
Jones later wrote on Twitter that Palin was gracious and offered to cook for her if she ever visited Alaska, but it doesn't sound like that will be happening anytime soon!
"Gov @SarahPalinUSA was gracious, offered to cook for me when I'm back in Alaska & cracked up when I said: 'meet you on campaign trail.' LOL," Jones wrote, but when asked by a fan if she was now going to "hang out with Republicans," the feisty lawyer replied, "LOL...Bite your tongue! I'd rather eat nails.