A Star Is Re-Born: Controversial Jones Returns To The View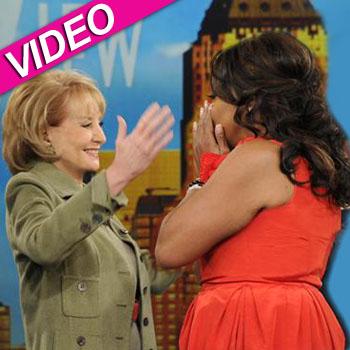 It was The View you never thought you'd see.
"I say this genuinely," Barbara Walters said. "I am so happy to welcome back Star Jones!"
And with that, the controversial TV personality came back to the show that made her a big name, six years after a stormy exit.
A happy Jones said, "A new couch. You've got two black girls. Sherri Shepherd and I are not the same person. Elisabeth Hasselbeck had more children. Joy Behar got married!"
Article continues below advertisement
As Walters brought up the controversy of 2006 -- when Jones said she was leaving, when in truth, her contract had actually not been picked up for another season -- Jones tried to keep things light.
Watch the video on RadarOnline.com
"Are we really going to go here, Barbara? Do we care at this point?! I honestly don't," Jones said. "It was ugly. It was a bad emotional time. Nasty things were being said in the media. I made the decision that I wanted to go out on my own terms.
"I had eight fantastic years here -- one was 'Eh' -- I came back to congratulate you on all you accomplished; I hope you congratulate me on what I accomplished," said Jones, who's been seen on Celebrity Apprentice and Are You Smarter Than a 5th Grader? in the years since she left The View.
VIDEO: NeNe Freaks Out At Star During Celebrity Apprentice Finale
There was also the lingering controversy over Star's 2003 weight-loss surgery, as Jones -- who weighed more than 300 pounds when she elected to have the procedure -- vehemently denied having anything done, though her ruse was subsequently exposed by her co-host Walters.
Article continues below advertisement
"She decided to have a gastric bypass operation, but then she decided not to tell anybody," Walters later told Oprah Winfrey. "Then, we had to lie on the set every day because she said it was portion control and Pilates. Well, we knew it wasn't portion control and Pilates."
Joy Behar tried to speak for the group in her inimitable humorous way over how the rest of the cast had to fib on her behalf.
"We tried to protect you. We were told, 'Don't say it was gastric bypass. Say it was Pilates and portion control,'" said Behar, noting, "You are now a skinny b*tch -- congratulations!"
VIDEO: NeNe Leakes Calls Celebrity Apprentice 'A Toxic Situation'
Jones, spreading cheer and goodwill then passed around bracelets to the current cast, telling them, "I wanted to say thank you for welcoming me back. ... You should know I have always held all of you in the highest regard."
Article continues below advertisement