Bill Maher Tells David Letterman Elisabeth Hasselbeck Has 'Some Bug Up Her Ass'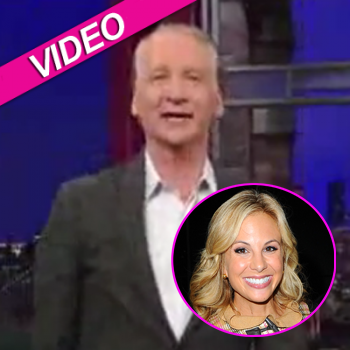 By Jen Heger - Radar Legal Editor
It's the feud that keeps on going!
Bill Maher was a guest on The David Letterman Show Tuesday night, and he told the late night talk show host that his longtime sparring partner, Elisabeth Hasselbeck, has "some bug up her ass," RadarOnline.com is reporting.
As RadarOnline.com previously reported, Maher had appeared on The View earlier in the day, when the former Survivor cast member blasted the HBO star for comments he made on his late night talk show in February while speaking about the sexual assault of CBS correspondent, Lara Logan.
Article continues below advertisement
"New rule: now that Hosni Mubarak has released Lara Logan, he must put her intrepid hotness on a plane immediately. In exchange, we will send Elisabeth Hasselbeck," he joked.
Elisabeth took exception to the comments and said, "Forgive this idiotic Republican for bringing this to your brilliant mind, but in February of last year, Lara Logan was in Egypt and she was brutally attacked there," she went on to repeat the offensive joke and said coldly, "You can't sit here right now and tell me I'm wrong for saying, 'That wasn't that funny."
Unfazed and refusing to back down, the HBO host replied: "We do a comedy show for an audience that's perhaps different than your audience. You are a public figure. It was not aimed at you personally, but when you are a public figure, you are out there and your fodder for comedians to make comments on."
Maher told Letterman that his Twitter account blew up with messages of support after his appearance on The View.
Article continues below advertisement
"I have never been the role of the victim,  I read my Twitter feed this morning, my Twitter feed, these are the people that follow me, and half of them hate me. They have hate for me...today it was all for me," Maher explained to Letterman. "Thank you Elisabeth Hasselbeck for making me look good...She had some bug up her ass. Was I listening, yada yada. She didn't like something I said on my show back in February."
However, despite the public feuding, the comedien said he actually likes Elisabeth! "I like her a lot, we have this relationship on TV where we play like we hate each other."
Watch a clip of Maher's appearance on The David Letterman Show below: