Kathy Griffin Dares To Bare, Recreates Janet Jackson's Iconic Rolling Stone Cover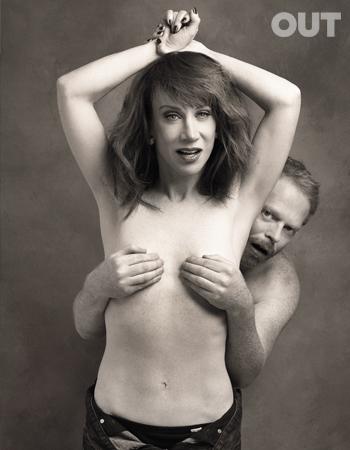 Kathy Griffin never takes herself seriously, even if it means taking her clothes off for the cover of a glossy mag, and RadarOnline.com has photos of her tongue-in-cheek shoot.
The comedienne daringly stripped off for Out magazine to recreate Janet Jackson's iconic topless Rolling Stone cover, with fellow redhead Jesse Tyler Ferguson cheekily cupping her breasts.
The fun-loving picture is part of the magazine's annual Out 100, a list of the most influential men and women in the LGBT community, and each of the celebrities were asked to mimic their favorite famous photos.
Article continues below advertisement
Griffin, who looks amazing for 51, had fun with Jackson's daring 1993 bare-breasted pose as Modern Family Jesse star grins cheekily behind her.
According to Out, the pair "couldn't stop from clowning around" during the shoot, and afterwards Ferguson tweeted how his hands would "never be the same."
In the original photo, Control singer Janet posed with her then unknown husband Renee Elizondo Jr. covering her naked breasts as she flashed her rock-hard abs.