VIDEO: Kathy Griffin Rips On The Royal Wedding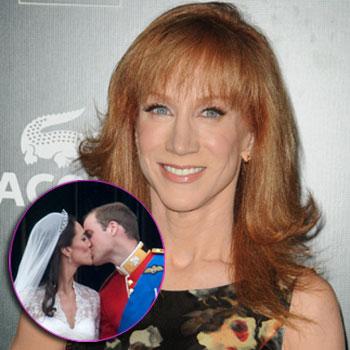 Radar Staff Reporter
It's never too soon to make fun of celebrities, royal weddings, or celebrities at royal weddings.
As a good American, Kathy Griffin sat down to immediately make fun of the royal wedding and RadarOnline has two sneak peeks from her hilarious recap of the highlights of the royal wedding.
MORE PHOTOS: Sexy, Stunning And Shocking Fashions From The Royal Wedding
While Princess Bride Kate Middleton looked gorgeous at her wedding to Prince William, Kathy ripped former Spice Girl Victoria Beckham's outfit.
Article continues below advertisement
"Look at Posh's second head," she joked about her wacky Phillip Treacy hat.
Showing footage of Guy Ritchie with a date, Kathy launched her trademark zingers. "That's gotta hurt Madonna. Madonna's at home in her apartment with Sarah Furgeson and they are eating donut holes and crying."
Did the Queen really fall asleep during William and Kate's wedding?
VIDEO: Prince William Marries Kate Middleton -- Rewatch The Magical Moment!
Check out Kathy Griffin and her panel of snarkologists for her TV Guide Network special Kathy Griffin's Insightful & Hilarious Take On The Royal Wedding airing tonight at 8pm.