Exclusive
America's Got Talent Scrambling To Save Face Amid Stuttering Soldier Scandal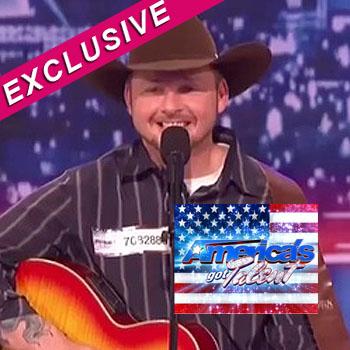 By Amber Goodhand - RadarOnline.com News Editor
America's Got Talent is under some serious scrutiny for the singing and stuttering soldier, Timothy Poe, whose entire audition story is allegedly false — and insiders exclusively tell RadarOnline.com that the hit NBC show is scrambling to save their reputation.
When Poe's audition aired earlier this week, hearts broke as he told the tale of a grenade going off while he was serving in the military in Afghanistan in 2009 and his subsequent brain injury that left him with a pronounced stutter.
Article continues below advertisement
"Almost everything this guy told the show was a lie. But America's Got Talent has their bases covered and didn't do anything wrong," the insider told RadarOnline.com.
"The show can't possibly check out the story of every individual that tries out. But they certainly don't like to be lied to and execs are not at all happy that Tim has cast a negative notion on the family show."
According to the source, AGT has their legal team on top of the situation and they don't appear to be at fault for anything.
"Doesn't change the fact that they're freaking out a little bit and scrambling to protect the show's name," the insider said.
"Timothy's appearance was supposed to be a sob story to tug at people's hearts and instead it's turned into damage control for the show."
Reports have surfaced — and even a statement from the military themselves! -- denouncing most of what Poe claimed in his audition.
"Sgt. Poe's official military records do not indicate that he was injured by a grenade in combat while serving in Afghanistan in 2009, as he reports," the Minnesota National Guard said in a released statement.
Article continues below advertisement
Poe also said in his audition that he realized he could sing only after his speech therapist suggested he practice singing in the show, but it turns out he was the lead singer of a band in Minnesota for four years called Crawl Space.
And finally, the photo AGT flashed during Poe's audition of a man in the field with military fatigues on, wasn't even him!
"Timothy supplied that photo to America's Got Talent claiming it was him," the insider said.
"Execs for the show want Timothy's appearance forgotten, and I wouldn't count on seeing him in Vegas or any of the future episodes."
RELATED STORIES:
Howard Stern Tells Goth Opera Prodigy: 'You Blew The Roof Off The Joint!'
6-Year-Old 'Superstar' Blows Away Judges On America's Got Talent
Howard Stern Says 'I Hate Glee' On America's Got Talent
Howard Stern Makes 7-Year-Old Cry On America's Got Talent