Howard Stern Tells Goth Opera Prodigy: 'You Blew The Roof Off The Joint!'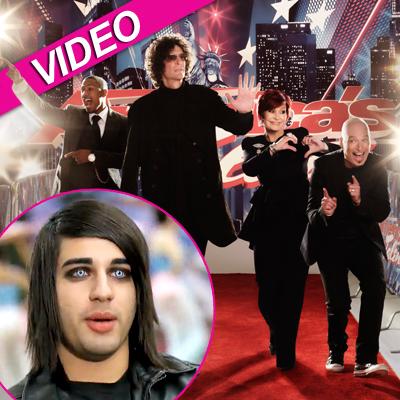 Howard Stern, Sharon Osbourne and Howie Mandel sauntered into Austin, Texas for auditions on America's Got Talent Tuesday, and might have fished out a real diamond-n-the-rough in Andrew De Leon.
The 19-year-old Gothic-inspired De Leon, sporting disarming contacts and a decidedly-dark look, claimed never to have sang or performed in front of an audience before.
"Rough day at the office?" Stern asked De Leon, who looked like a one-off act inserted into the show for comic relief, but turned out to be so much more.
Article continues below advertisement
Meleana Brown Shows Off 'Endless' Talents In Duets Debut
De Leon -- who says he was was self-taught -- then turned in a brilliant performance (reminiscent of Susan Boyle) with his opera singing.
"I'm just so used to being rejected and I'm not really good at anything, so this is amazing," De Leon, a makeup artist by trade, said after the judges cooed over his star-making serenade and passed him onto the next round.
MORE ON:
America's Got Talent
"You got up here and blew the roof off the joint -- good for you!" the King of All Media told De Leon.
Watch the video on RadarOnline.com
Sharon told Andrew his parents, who were in the crowd, "must be so proud of you!
"And please don't say that you're not good at anything," she said, "because you have an amazing voice and you are an individual!"
Said Howie: "It's not that you're good at anything … you are great."