PHOTOS: American Idols! Our Favorite All-American Bikini Babes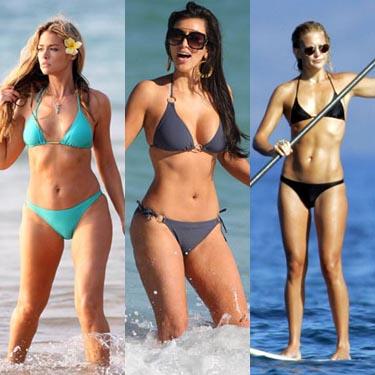 They may not have been singing and dancing on the hit Fox television show on Wednesday night, but these bikini babes are definitely American Idols! RadarOnline.com has photos of our favorite all-American bodies, stripped down and flaunting their fabulous figures in skimpy swimsuits. Click the next sentence to see our American Idols in bikinis.
Article continues below advertisement
Kim Kardashian has redefined the word bombshell. The bootylicious reality show star proudly totes some of the most covetable curves in our country, showing off her oversized assets in the skimpiest of bikinis from the Pacific to the Atlantic. Click here to see why Kim Kardashian is an American Idol.
Denise Richards is one of the hottest single moms in Hollywood. After splitting with her bad boy hubby years ago, the Wild Thing has upped her sexy ante, making sweet music with the hardest rockers on the Billboard charts. Juggling a career and motherhood is a hard act to follow, but Denise manages to make it look easy-and sexy. That is why she is an American Idol. Click here to see Denise's scorching bikini body.
Paris Hilton is the most famous-and sexiest-heiress in the world. The scandalous reality show star has spent years in the public eye, exposing her fat-free and fabulous figure every chance she gets. Skin wins, and that is why Paris is an American Idol! Click here to see Paris' iconic bikini body.
And when it comes to all-American looks, Kate Hudson has it down. Hollywood royalty, Kate grew up in the public eye, making the most of her hard body every step of the way. Whenever Kate strips down and shows off her svelte body, all the boys drop their jaws. A box office boho bombshell, Kate is the ultimate American Idol. Click her to see Kate's beautiful bikini body.