Ann Curry's Tearful Goodbye On TODAY: 'I'm Sorry I Couldn't Carry The Ball'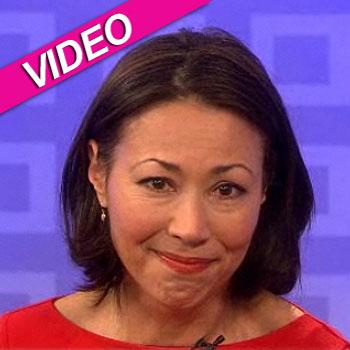 An emotional Ann Curry Thursday announced she's officially done as the co-host of TODAY, saying that while she tried her best, she "couldn't carry the ball to the finish line.
"This is not easy to say, but today's going to be my last morning as regular co-host of TODAY," a hoarse-voiced Curry said, flanked by her colleagues Matt Lauer, Al Roker and Natalie Morales.
Curry, 55, ends with just more than a year in the lead anchor role, and her ouster comes after following the NBC morning juggernaut losing a 16-year lead over its chief rival, ABC's Good Morning America.
Article continues below advertisement
A choked-up Curry clarified her new role within the organization, admitting while this is not as she expected, she's grateful to the show's viewers who supported her during her 15 years there.
"To all of you who watch because Matt and I -- and everyone who sits on this couch -- we often call ourselves a family, but YOU are the real TODAY show family," she said. "You are why I have ventured into dangerous places and interviewed dictators and jumped out of planes and off of bridges and climbed mountains and landed in the South Pole and convinced the Dalai Lama to come live in our studio.
"I have loved you and I have wanted to give you the world, and I still do."
Watch the video on RadarOnline.com
Curry, fighting back tears, confirmed she will stay with the Peacock Network as a correspondent dealing with hard news stories. She said she'll have "a fancy new title" with the network, and tasks that will have her "go all over the world and all over the county at a time when this country and this world needs clarity."
Article continues below advertisement
Curry said, "I don't even know if I can sleep in anymore after all these years, but I know that whatever time I wake up, I'll be missing you. And I'll be believing in you. I love all of you, especially all of you who are behind the scenes, behind the cameras. I love you guys."
She wrapped up saying, "For all of you who saw me as a groundbreaker, I'm sorry I couldn't carry the ball to the finish line, but man, I did try. And so to all of you who watched: Thank you from the bottom of my heart for letting me touch yours. ... I will keep trying and I'm sorry I turned into a sob sister this morning.
"Please forgive me, but I hope you'll wish me well."
Lauer told Curry she has "the biggest heart in the business," to which Curry admitted, "I'm wearing it on my sleeve this morning."
Lauer responded, "No, you put it on display every single day in this studio and you have for almost 20 years. The way you care about people comes through in every single story you report … thank you from the bottom of our hearts."
Article continues below advertisement