Hope Solo Flexes Her (Naked) Muscles For Photo Shoot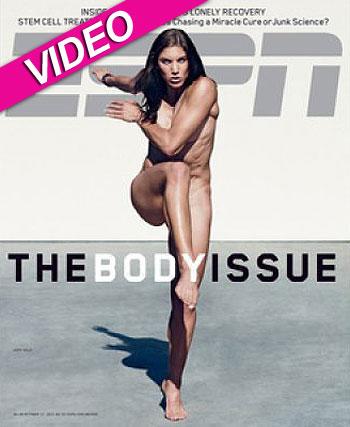 When she's not doing the rumba on the dance floor with Maksim Chmerkovskiy on Dancing with the Stars, Hope Solo is best known as a professional soccer player and she is now revealing her athletic side in every way in the new ESPN The Magazine 'Body Issue,' and RadarOnline.com has the photo and video from the sexy shoot.
The World Cup soccer star joins 22 ripped athletes, including Serena Williams, Blake Griffin and Jose Reyes, who strip off in the pages of the third annual Body Issue of the sports magazine.
Article continues below advertisement
In the revealing photo, the U.S. national soccer team player strikes an athletic pose that shows off her sculpted muscles and incredibly toned body, as she lifts one of her rock-hard legs up as if to sprint forward.
In a video interview filmed by ESPN during the shoot, Solo explains what it means to her to be included in the special issue.
"I feel very honored to celebrate not just the athlete's body, but the female athlete's body," she said, before stripping off for the camera.
"This is like pre-game jitters, I don't get nervous too early. I like to peak at the right time, and then I'll get the butterflies right before I step on the field," she explained.
The 30-year-old soccer star went on to address what it is like being in the public eye for more than just how you play your sport.
"People have expectations and either you meet them or you don't, and then they judge you. It's a little nerve wracking in that sense.
MORE ON:
Sexiest Bodies Hollywood
Article continues below advertisement
"I always said I wanted to be a basketball player...but looking at my body I'm perfect for what I do," said the 5'9" goal keeper.
"I don't take it seriously being a sex symbol at all, I'm an athlete, that's all I am. If a sex symbol is now a top female athlete then I think that's pretty amazing and it shows how far our country has come from the stick thin models, from what you see in most magazines," Solo told ESPN.
After the shoot was over, Hope looked a lot more relaxed than before and seemed pleased with the artistic results.
"It's pretty liberating and may never happen again in my life so I'm honored to do it. I've always tried to take pride in being a female athlete and now we have magazine like this that gives us the tools to do so," she said.
A fully-clothed Hope can been seen on Dancing with the Stars on Monday (or as much as clothed as anyone is on the show) when she she takes the floors with sexy Ukrainian Maks again.