Dancing With The Stars Cast Opens Up In GMA Segment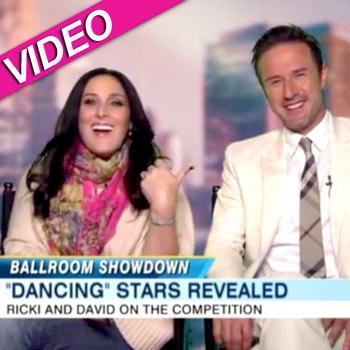 Hours after ABC announced the star-studded cast of the 13th season of the Dancing with the Stars, the ensemble group immediately began promoting the upcoming season on Good Morning America Tuesday.
Chaz Bono -- the transgender daughter-turned-son of Sonny and Cher -- said his famous mother checked in with her upon hearing that he'll be taking the ballroom floor.
"She wanted to know how everything was going, if I was nervous," Chaz said.
Article continues below advertisement
Chaz, who will be dancing with a female partner on the show, said he's more confident taking the public dance floor a few years removed from his gender reassignment procedure.
"I wouldn't have even felt comfortable dancing with a male dance partner!" Chaz said.
Another high-profile entrant, David Arquette, told KIIS-FM host Ryan Seacrest Tuesday he'd like to get to know Bono, as he's had first-hand experience watching a sibling grow up with gender identity issues.
"Alexis, my sister, is transgender and I grew up with her and saw some of the struggles that she had," he said, adding he thinks "it's great" Bono will be taking center stage on the ABC hit.
Soap star/Iraq War vet J.R. Martinez, who suffered burns to more than 40 percent of his body during his time in service, said he's ready for the challenges that await him on the ratings smash.
Chaz Bono On DWTS -- LGBT Community Rally Around Rumored First Transgender Contestant"
Article continues below advertisement
My life was almost taken away from me," Martinez said, adding the experience taught him to "maximize every second of his life and opportunity."
Italian stunner Elisabetta Canalis, who recently split up with George Clooney, danced around questions about her famous ex-boyfriend.
Watch the video on RadarOnline.com
Rob Kardashian was willing to speak, in particular, about his sexy co-star Canalis.
"She was telling me she swims, she runs, she loves to hike," the younger brother of Kim, Kourtney and Khloe said on GMA. "She told me she's 25, when I know she isn't!" (She's 32. And drop-dead gorgeous.)
The rest of the new cast will consist of CNN spitfire Nancy Grace; U.S. Women's Soccer Team goalie Hope Solo; The Hills star Kristin Cavallari; fashion expert Carson Kressley; L.A. Laker Ron Artest; and Hairspray's Ricki Lake.
On Wednesday, we'll learn who the celebs are paired up on Good Morning America; Dancing With The Stars 13th season begins on ABC Monday, September 19.