Demi Moore's Drunken Makeout With 15-Year-Old Boy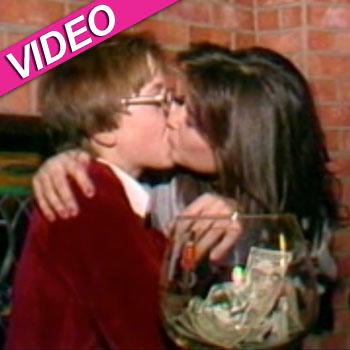 By Amber Goodhand - RadarOnline.com Reporter
Demi Moore has always been a cougar, and there's video footage to prove it.
Entertainment Tonight has dug up the first interview they ever did with the actress in 1982 while she was at a restaurant celebrating General Hospital co-star Philip Tanzini's 15th birthday — and booze wasn't the only thing hitting Demi's lips.
"I love him dearly. He's one of my most favorite people," Demi said in the video of her underage co-star, in between numerous passionate kisses shared between the two.
Article continues below advertisement
"I love Philip and he's the only one I love," Demi jokes.
Demi was married to musician Freddy Moore at the time, but that didn't stop the tipsy 19-year-old from showing her love for Philip.
Now 49 years old, Demi secured her identity as a cougar after she married Ashton Kutcher, 16 years her junior, six years ago before separating in November when Ashton was caught cheating with San Diego party girl, Sara Leal.
On Monday night Demi was taken to a local hospital after suffering an epileptic seizure due to a combination of her struggle with anorexia and her use of the prescription drug Adderall.
"Demi has been taking Adderall and drinking energy drinks and starving herself and those are some of the serious causes that led her to collapse on Monday night," a source close to the actress told RadarOnline.com.
"The pills and starvation destroyed Demi and this has been a problem for about a year… She's constantly jacked up on Adderall and combining that with not eating accounts for her loopy behavior and anorexic body frame. She literally refuses to eat any food."