We Can Barely Look! US Gymnast Aly Raisman's Parents Squirm During Her Performance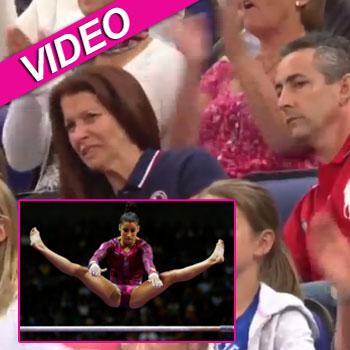 By Debbie Emery - RadarOnline.com Reporter
Competing in the Olympics is nerve-wracking enough, but nothing compared to the anguish of watching a loved one perform and being unable to help them.
The stress of seeing their daughter's future in the balance on the uneven bars couldn't be more clearly painted on the faces of Aly Raisman's parents, and RadarOnline.com has video of their hilarious reaction that has now gone viral.
Article continues below advertisement
Ricky and Lynn Raisman can been seen physically squirming as the 18-year-old gymnast from Needham, Massachusetts, competed in her first Olympic Games on Sunday night.
As the cameras stayed steadily on the excited pair, the Raismans didn't even try to hide their intense nerves and Lynn winced at Aly's every move while repeating, "Come on Aly, lets go, come one Aly, lets go."
Raisman's dad looked equally as uncomfortable as he sat with pursed lips ducking and swaying as his daughter swung on the bars. When it was finally over, the devoted parents couldn't hide their joy, as Ricky first covered his face in his hands and then broke into what may be the biggest – and goofiest – smile of the games so far.
Aly will compete in the women's gymnastics team finals on Tuesday, and we are sure all eyes will be on her mom and dad again!