Outrage As Australian Olympic Swimmer Is Slammed For Being Too Fat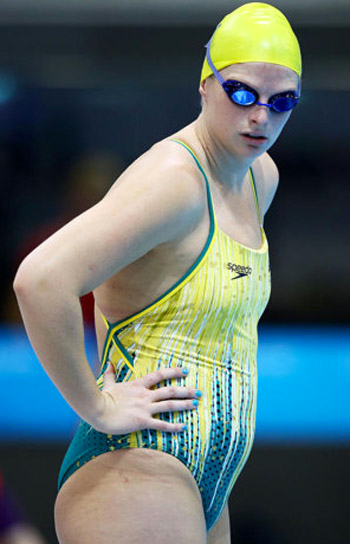 By Debbie Emery - RadarOnline.com Reporter
As a swimmer on the Australian Olympic team, Leisel Jones has far more important things to worry about than how she looks in her bathing suit, but a newspaper in her home country has focused on her body and not her talent by bashing her for being too fat.
The Herald Sun in Melbourne not only called out the eight-time Olympic medalist's figure for being "in stark contrast to that of 2008," on Wednesday - they even went as far as to post a poll asking readers if they thought she was fit to swim in London, reported Yahoo! Sports.
Article continues below advertisement
The weight war has caused outrage among supporters and fellow athletes - who have spoken up in droves to support 26-year-old Leisel – and the Herald Sun has since taken down the offensive poll.
"I'm embarrassed by the Aussie media having a go at Leisel, one of Australia's greatest Olympians," fellow swimmer Melanie Schlanger tweeted. "Support athletes don't drag them down."
Australian Olympic team chief Nick Green spoke out against the cruel criticism in a press conference on Thursday, saying: "I think she deserves a lot more respect than she was given. I think they are disgraceful to be honest... extremely unfair...Athletes come in different shapes and sizes."
Having competed in the Olympics since she was 15 and with three gold medals, four silvers and a bronze under her belt, Jones is treating it like water off a duck's back and not letting it affect her focus.
"Leisel seemed fine when we spoke," Australian swimming coach Leigh Nugent told the Herald Sun. "People are going to have their opinions, but Leisel is here at the Olympics for a fourth time, which is a massive achievement. I've observed her swimming and she's swimming pretty fast and that is what I'm interested in."
Article continues below advertisement
As for her physical shape, the coach was equally as supportive of his star swimmer. "Athletes come in different shapes and sizes. It is the preparation leading into the performance which is absolutely paramount.
"This is their golden opportunity. Athletes don't come here for a holiday. They just don't," he explained to the paper.
"Leisel is a superb athlete, a triple Olympic gold medallist. She knows what she is doing. She has prepared the right way. Everyone in the team supports her 100 percent."