David Beckham Surprises Fans In Olympic Photo Booth, Boy Breaks Down In Tears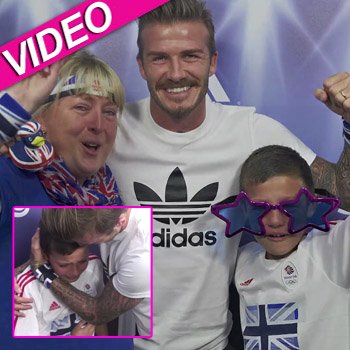 By Amber Goodhand - RadarOnline.com News Editor
The last thing excited sports fans expected to get when they stepped into the Olympic photo booth was a hug from soccer great David Beckham, but that's exactly what they got, and RadarOnline.com has the fun video.
Adidas set up the photo booth at the Westfield mall in Stratford, East London to support the British soccer team — and even though Beckham isn't a part of the team this year — he graciously surprised fans while they were in the booth and took photos with them.
Article continues below advertisement
The shock and surprise on fans faces is priceless, especially 12-year-old Christian Bell who broke down in tears over meeting his idol.
"My son starting crying and it made me cry, too," Christian's mother, Elaine Lewis, said. "It was absolutely amazing."
Beckham later told reporters, "It was a unique experience for me and the people who took part. There were some great reactions when we surprised them."
Check out the cute video yourself below!