ID Please! Even Kate Middleton Has To Wear Name Tag At The Olympics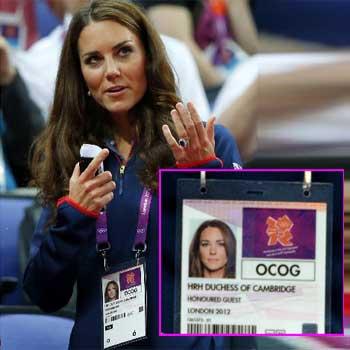 Just in case security staff at the London Olympics weren't among the three billion people who watched her wedding, Kate Middleton has been forced to wear picture ID for the 2012 games.
In a move worthy of a gold medal in the silly stakes, the pretty royal - who is arguably one of the most famous women in the world - has been wearing a huge name badge, complete with her photo and her title at the games.
Article continues below advertisement
Despite the Olympics being held in her own country, Prince William's wife has been displaying a gigantic lanyard with 'HRH Duchess of Cambridge' round her neck while cheering on her country's athletes.
But to make sure everyone knows she's VIP they've made sure to included the phrase 'Honoured Guest' underneath her photo.
The 30-year-old and her Prince have been a firm fixture at the summer event and have been seen supporting a number of Great Britain's sporting heroes.
MORE ON:
Duchess of Cambridge