Olympic Gymnast Gabby Douglas' Triumph Over Tears After Dad Recently Arrested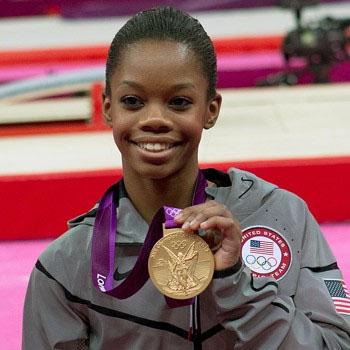 The broken home of Olympic gold medal winning gymnast Gabrielle 'Gabby' Douglas has been a hot topic for the past week in London, and the new issue of the National Enquirer has exclusive details on how her father's recent arrest rocked the family.
"There were many issues in the family household as Gabby grew up, and she learned to push those problems to the back of her mind so they wouldn't be a distraction and affect her performances," a family insider told the Enquirer.
Article continues below advertisement
Nicknamed the 'Flying Squirrel,' one of the hurdles the 16-year-old from Virginia Beach overcame was the breakup of her parents' marriage -- mom Natalie Hawkins filed for divorce from her father Timothy Douglas -- but he left the family years earlier to serve abroad with the Air Force when she was nine.
After Gabby, her mom, and three siblings struggled to make ends meet over the years, perhaps the most shocking blow came in February when her wayward dad was arrested, court documents obtained by the Enquirer reveal.
Timothy, who has served in both Iraq and Afghanistan, was arrested for contributing to the delinquency of a minor and pleaded no contest, and while police would not provide any specific details to the Enquirer, the charge is punishable by up to a year in jail and a fine of up to $2,500. Attempts to reach Gabby's father, 46, went unanswered.
Only days after her dad's arrest, Gabby competed in the AT&T American Cup at Madison Square Garden and won the women's all-around competition.
Article continues below advertisement
"It's unclear if Gabby knew about her father's arrest," said a source. "If she did, it's yet another example of the incredible character of this amazing young woman to stay focused and not let family issues destroy her dream. She's a true hero and a true champion."
After becoming the first African American to win the all-around Olympic gold medal in women's gymnastics, Gabby won't have to worry about money for long now that sponsors are clamoring to have her endorse their products and she could earn her up to $90 million in deals, including the cover of Kellogg's Corn Flakes.