Lauren Scruggs Breaks Silence On TODAY, Gabby Douglas Surprises With Cameo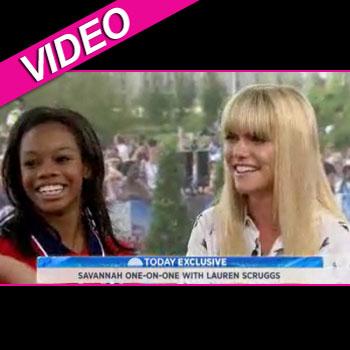 Lauren Scruggs, the model/fashion blogger whose road to recovery after walking into a live plane propeller caught the nation's attention, gave her first post-accident interview on TODAY Thursday, which included a special cameo by Olympic gold medalist Gabby Douglas.
"I remember my feet touching the ground, getting out of the plane, but that's all I remember," Scruggs said of the December 3, 2011 accident in her native Texas, which left her a fractured skull, broken left collarbone, and injuries so severe to her left hand and eye, that they had to be removed.
Article continues below advertisement
"Spiritually, I've just learned to live by faith and not by sight,'' Lauren told Savannah Guthrie. "Even though I've lost my left eye, I've just realized that the Lord has a strong purpose in it, and I need to use that.''
Lauren, 24, said she's "feeling good" and off all medication, having not had any physical pain since January.
"Emotionally, days are hard sometimes, just accepting the loss of my eye and hand," Lauren said, "but it just gets better and I realize God's in control of my life and there's a purpose to this story.''
Lauren has penned a memoir titled Still Lolo: A Spinning Propeller, A Horrifying Accident, and A Family's Journey of Hope about the aftermath of the accident. She said writing the book was cathartic.
"I have kind of gained a new perspective of life and I feel like I need to use my message of hope and healing to help others, and inspire others, just like people have inspired me," Lauren said, adding, "It's just good to be out in public just as I am and letting people know I'm doing OK and healing up.''
MORE ON:
hollywood happenings
Article continues below advertisement
Watch the video on RadarOnline.com
The interview was conducted in London, where NBC is covering the Olympics. That set the stage for a special cameo from gold medalist Gabby Douglas, who Lauren called a "real inspiration" to her.
"Just her spirit is so sweet and just how she professes her faith," she said of Gabby, who made a surprise cameo in the segment.
"I always wanted to inspire a nation and inspire people, so this means so much to me when you said you were inspired by me,'' Gabby told Lauren. "It's just an amazing feeling. I'm so happy, so excited for you and all that you've overcome.