On The Mend! Brave Lauren Scruggs Shows Off New Prosthetic Eye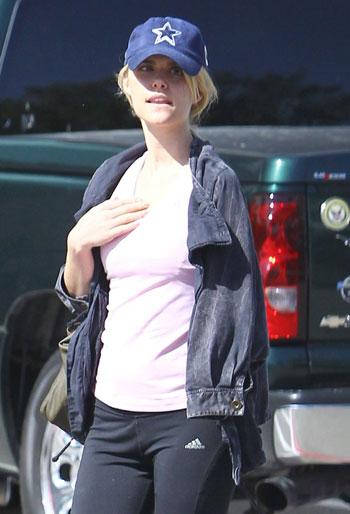 By Debbie Emery - RadarOnline.com Reporter
Lauren Scruggs has bravely battled every adversity that life has thrown at her since her devastating collision with a small plane propeller, and this week the former model and fashion blogger stepped out with her prosthetic eye on display for all to see.
The 23-year-old was seen leaving the gym in her hometown of Dallas, Texas, wearing what has become her signature blue Cowboys hat and an over-sized jacket pulled down to cover her missing left hand, and while a close look reveals her left eye to be a prosthetic, it doesn't spoil her pretty all-American good looks.
Article continues below advertisement
As RadarOnline.com previously reported, Lauren had the prosthetic fitted earlier this month after the horrific injuries to the left side of her body on December 3, which included a fractured skull, broken collarbone and brain injuries. "The ocularist carefully painted and shaped the new eye," said mom Cheryl Scruggs.
Meanwhile, Mrs. Scruggs was back on the family blog at CaringBridge.org on Friday, updating supporters on how her brave daughter is doing 12 weeks after the accident.
"Spring is in the air, here in Dallas. The sunshine is medicinal...What we, as a family, are trying to do on a daily, minute by minute basis, is see and observe God's blessings in the midst of all the pain AND joy," said the deeply religious parent.
"We cherish hearing positive words come from Lo's mouth, and look forward to her beautiful smile (which melts our hearts)," she said, but added that despite her progress, Lauren is still suffering.
Article continues below advertisement
"We also know that at times she feels like her world is caving in, when she grieves that her life is changed forever. It's when she can't get her boots off by herself, takes twice as long to get dressed, can't open a container or still can't drive, that hurts."
On the upside, "Lo's humor is back! We have had some big time belly laughs....and it's so refreshing! Physically she's getting stronger! She received a remarkable neurological report last week! She's working hard through the grief and the ups and downs of something so painful and horrific.
"Yet, at bedtime, last night, we were all crying. Lo was down. She couldn't even explain her grief, and frankly did not want to. She was just plain angry and frustrated," explained Cheryl.
Lauren returned to Twitter recently, where she has been thanking her supporters and tweeting photos of a trip to the slopes to watch a ski competition.
"Watching ski jumping!! Love it," she wrote. "Such a fun weekend with sweet family and friends :)."