Lauren Scruggs' Parents: She's Doing 'Remarkable' 4 Months After Walking Into Plane Propeller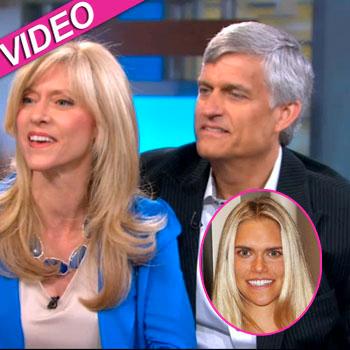 In a special appearance on Good Morning America Friday, Lauren Scruggs' parents Jeff and Cheryl said their daughter's recovery has been nothing short of "remarkable," and that they've been able to keep things together because of their strong faith.
As RadarOnline.com previously reported, the 23-year-old model/fashion blogger underwent extensive surgery, including having her left eye replaced, after she walked into a live plane propeller December 3 in her native Texas. Lauren suffered injuries to her entire left side -- including losing her left hand and eye -- as well as a fractured skull, broken left collarbone and brain injuries.
Article continues below advertisement
Her mother Cheryl told Katie Couric, "Everything she's been through and the journey she's still on, she's doing remarkable. She really is.
"She's concentrating on her rehabilitation still, and she knows that God is caring for her, healing her and because of him she has the strength and the determination and the courage to wake up every day."
Her father Jeff noted that the family's faith has helped make impossible expectations a reality.
"We were told early on that she may never form a complete sentence again and that she may have a different personality," Jeff said. "God has answered those prayers."
He added Lauren "has her same spunk, the same personality, it inspires all of us."
Cheryl noted the outpouring of help and love from the surrounding community in the wake of the devastating accident, which received national media coverage.
Article continues below advertisement
"We trusted God from the very beginning to provide a community around us. Praying, people brought meals for ten weeks. I didn't cook for 10 weeks," Cheryl said. "Just the team of doctors, nurses, therapists, all of that, God provided all of that, as well as the comfort of the scriptures. Being able to read the scriptures was a comfort to look at every day."
Cheryl said the accident has brought the special bond between Lauren and her twin sister Brittany.
"Brittany, even early on when Lauren was having trouble with her eye, Brittany's eye, her left eye started to blink, twitch for about two weeks," Cheryl said. "She's been there to support her and Lauren calls on her. They have been close all of their lives, and just knowing that Brittany is there for emotional support, physical support, has been a huge blessing."
Watch the video on RadarOnline.com
As for the accident, Lauren's father Jeff said, "All she remembers is getting out of the plane."
Article continues below advertisement
Lauren last week received a payout rumored to be in the $1 million range from the insurance company of the pilot and the plane's owner.
Lauren's also working on a book detailing her trials and tribulations of the accident, and what spurred her remarkable recovery. Titled Still Lolo, it's expected to hit bookstores this November.