LeAnn Rimes Gets Into Twitter War With 'Fan' Who Slams Her For Being A Homewrecker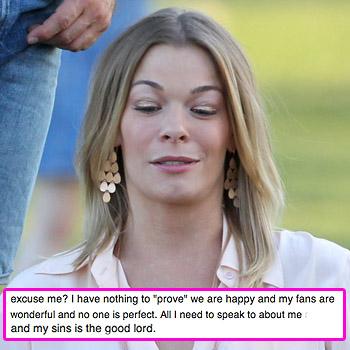 LeAnn Rimes is on the defense!
The social media savvy singer got engulfed in a nasty Twitter battle with a follower on Wednesday, after they slammed her for her homewrecking ways – and RadarOnline.com has the details.
After Laura James mentioned Rimes in a Tweet, noting that she "cheated with Ed & broke up her marriage and his," the country star immediately rushed to defend herself and her marriage to Eddie Cibrian.
Article continues below advertisement
"correction…we broke up our own marriages," she responded, also stating that "people have nothing better to do than judge something they know nothing about."
"Well, then u better prove to others what u did was right by staying together so u can get ur fan base back. Otherwise the breakups & your marriage were all for nothing," James spat back at LeAnn.
"And u might not want to believe this but ur fans hate u & ur career is in the shi**er. while Ed smells like a rose through all of this! Hope ya have a prenup bc that is all he wanted is ur money. Good luck to you."
"excuse me? I have nothing to 'prove' we are happy and my fans are wonderful and no one is perfect. All I need to speak to about me and my sins is the good lord," responded LeAnn.
"Remember you can't break what's already broken. I'm not anything like what you read about. It's all lies and anything you've read about no matter who or where it comes from....well, let's just say its a game for so many to hurt others. Time to move on, everyone else has."