Inappropriate Much? LeAnn Rimes And Eddie Cibrian's PDA-Packed Father's Day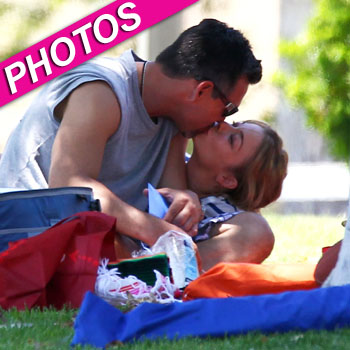 Nothing says "Happy Father's Day" like a full-on make out session in front of the kids!
LeAnn Rimes and Eddie Cibrian steamed up a Los Angeles park on Father's Day Sunday, engaging in a PDA-packed afternoon in front of Cibrian's two boys with Brandi Glanville – and RadarOnline.com has the photos.
Baring her belly in a striped crop top and super tiny white crocheted shorts, the country singer and her husband of more than a year couldn't keep their hands off each other as they picnicked in the park and played some games with Mason and Jake.
Article continues below advertisement
"You are an amazing father who sacrifices a lot for two beautiful boys," Rimes tweeted about her husband. "I love watching the way you love and raise them. It brings me such joy to see the respect and love between you three. We all love you so much. We are all lucky to have you in our lives."
Last week Rimes extended an olive branch to Brandi Glanville on Twitter, reaching out to the Real Housewives of Beverly Hills star with a friendly message, but her generosity didn't last too long! Days later she shared a blog posting on The Evil Stepmother about dealing with that "nasty ex-wife."