LeAnn Rimes And Eddie Cibrian Renew Wedding Vows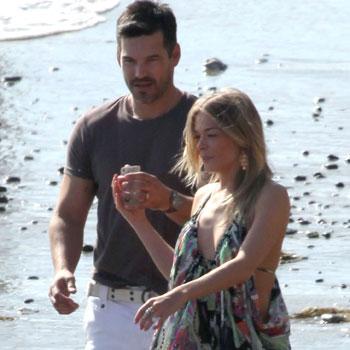 LeAnn Rimes and Eddie Cibrian celebrated one year of marriage by renewing their wedding vows.
The country singer took to Twitter where she gushed about her husband and their special day.
"Renewed our vows today," she wrote on Friday. "It's incredible to thank each other for the past years as husband and wife. Here's to another great year!"
The pair - who tied the knot on April 22 last year - enjoyed a day at the beach which LeAnn also shared with her fans.
Article continues below advertisement
"Eddie and I went climbing on the rocks in the ocean yesterday to see the thousands of crabs," she wrote on the social networking site.
LeAnn, 29 and Eddie, 38, actually began their celebrations last week when they stayed at the Malibu house where they held their nuptials.
But LeAnn being LeAnn decided the occasion deserved two weekends of fun.
"Thank you all for the beautiful anniversary wishes," she previously Tweeted. "Woooo hoooo it's been a year. Here's to many many more."