Happy Anniversary -- LeAnn Rimes And Eddie Cibrian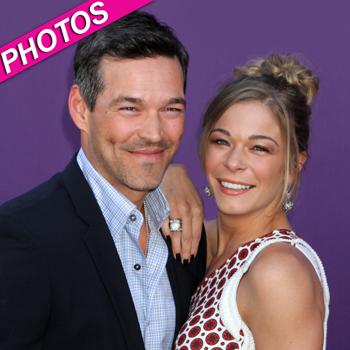 There are many who probably thought that LeAnn Rimes and Eddie Cibrian wouldn't make it through the first month of marriage, let alone an entire year. But it's time to say -- Happy Anniversary!
"I think we are packed for our 'stay cation' Good times ahead! Here's to a great weekend and an amazing one year anniversary," LeAnn gushed to her fans on Saturday, on the eve of the big one year celebration.
Article continues below advertisement
The relationship -- as everyone knows -- began in scandal.
They got together while still married to other people in a torrid affair while shooting Lifetime movie Northern Lights in 2009.
The country songstress later said it "made me sick" that they betrayed her ex Dean Sheremet and Eddie's former wife Brandi Glanville of The Real Housewives of Beverly Hills fame.
Epic twitter fights between LeAnn and Brandi ensued and there was clearly no love lost between them but they seem to have finally ironed out their differences and are being amicable for the sake of the kids Eddie and Brandi have.
They were pictured sitting next to each other last month at a school sports event.
Eddie's career has been a bit stalled since his TV series, The Playboy Club, was canceled after just three episodes last year.
PHOTO: LeAnn Rimes & Brandi Glanville -- BFFs?
But not to let the negatives get them down, the newlyweds have enjoyed numerous vacations in the past year in holiday hotspots like Mexico and Hawaii.
Article continues below advertisement