Exclusive
Hard Partying Brandi Glanville Is Turning Into Beverly Hills' New 'Mean Girl'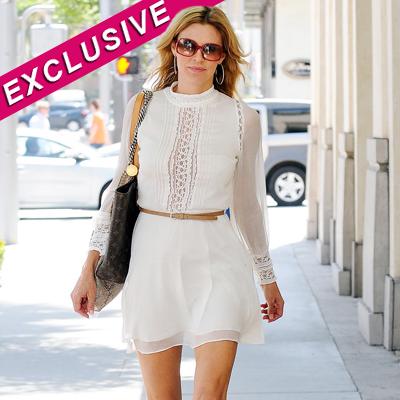 Article continues below advertisement
As we previously reported, fellow "Housewife" Taylor Armstrong has also been hitting the bottle and had a catastrophic meltdown during a recent trip to Ojai, which left her co-stars fearing for her future if she doesn't seek treatment for her drinking.
"Brandi has been extremely chummy with Lisa Vanderpump this year," a source close to the situation tells RadarOnline.com. "She just doesn't seem to be in a good place right now, and she has been definitely hitting the bottle a lot harder this year during filming, which is cause for concern. Brandi becomes much more aggressive when she drinks and she is turning into the new mean girl on the show. It's hard to tell if it's the alcohol that is the cause for the drastic mood changes, if it's just Brandi trying to be provocative, or if she feels pressure to act a certain way during filming."
During an episode last season, the cast went to Maui for Kyle Richards' husband's birthday party and Brandi admitted on camera that she had taken Xanax and had been drinking. Glanville certainly appeared to be under the influence during the episode and was slurring her words.
Glanville recently revealed in an interview with Australia's NW HQ magazine that she once felt like killing Cibrian's new wife LeAnn Rimes after the country singer surfaced at one of her son's soccer practices!
Article continues below advertisement
"I remember walking up to soccer practice and there she was with my baby in her lap," Brandi -- who has two sons with Eddie, Mason and Jake -- told the magazine. "My blood was boiling, and I thought I was going to kill her. I really thought I was going to physically hurt her. But that was the first time I saw her that way -- she was sitting in my soccer chair, under my tent, she's got my kid on her lap, and she's with my husband, and that was that little moment of total irrational fury."
However, the blonde beauty went on to say that things between the country singer and herself had gotten better. "We're never going to be best friends but she's good to my kids, they love her and that's all I could ask for," Brandi said. "If they didn't like her, I'd be in court right now, fighting. It's not about me -- it's about them."
"What is absolutely obvious is that Brandi is extremely insecure and very unhappy. it's truly sad to see," the source says. "She is a totally different person than she was during the second season and it's not for the better."