Taylor Armstrong Puts Housewives Troubles Behind Her To Wango Tango With Daughter Kennedy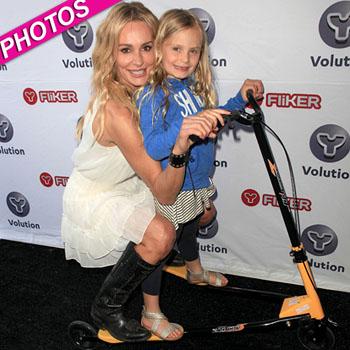 Taylor Armstrong seemed to put her troubles behind her on Saturday by going to KIIS FM's Wango Tango concert Saturday.
The Real Housewives of Beverly Hills star smiled as she posed outside the Home Depot Center with her daughter Kennedy.
the 41-year-old blonde is facing a $1.5 million lawsuit, originally filed against her and her late husband Russell Armstrong who died last year.
In April a judge refused to dismiss the claim filed by MyMedicalRecords.com, which accuses the couple of allegedly scamming money to "live a lavish lifestyle."
Article continues below advertisement
On top of that, Taylor's friends are growing increasingly concerned about her drinking and want her to go into treatment.
But Taylor put all that aside and partied with a host of other celebrities including Justin Bieber, Jersey Shore star Ronnie Ortiz and fellow Beverly Hills housewife Kyle Richards who brought her three-year-old daughter Portia and her husband Mauricio Umansky.
Performers included Nicki Minaj, Pitbull and Maroon 5.