Exclusive
Camille Grammer's Boyfriend's Baby Mama Drama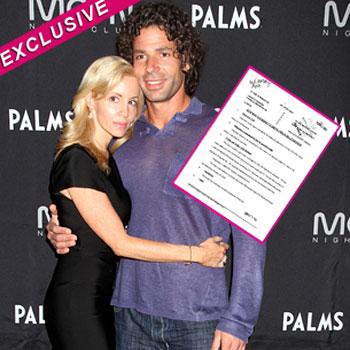 By Jen Heger - RadarOnline.com Assistant Managing Editor
Camille Grammer's boyfriend, Dimitri Charalambopoulos' baby mama, Lisa Chynoweth, submitted a sworn declaration in the ongoing custody battle of their nine-year-old son Marcus, voicing her concern about his being subjected to the glare of the Hollywood spotlight, RadarOnline.com is exclusively reporting.
As RadarOnline.com previously reported, Dimitri was being video deposed in an ongoing custody dispute with Lisa, and was asked to listen to a recorded phone call between Camille and Lisa. During the recording, Camille says, "If you go to the press, I have lawyers that are beyond what you can imagine and they will pull stuff on you and you will be so mortified about your life and your family and what you have done. You don't want to do that to Marcus."
Article continues below advertisement
EXCLUSIVE DOCUMENTS: Read Lisa Chynoweth's Petition To Change Marcus' Relationship With Dimitri
The Greek hunk immediately sought the temporary restraining order after his videotaped deposition surfaced on YouTube.
According to the TRO which was obtained in Dallas, Texas, "the court examined the pleadings and affidavit of Dimitri Charalambopoulos, and finds that Dimitri Charalambopoulos is entitled to a temporary restraining order restraining Lisa Chynoweth from releasing any deposition transcripts or videos regarding this case to anyone, directly or indirectly, for any reason..."
EXCLUSIVE DOCUMENTS: Read Dimitri's TRO Against His Ex-Girlfriend
Chynoweth is asking a judge to let her move from Texas to Colorado with Marcus so she can be closer to her family. Dimitri is opposed to the move and wants Marcus to remain in Dallas, where he resides.
Lisa says in her sworn declaration, which was submitted to the court on February 8, 2012, "I do not believe it is in the best interest of our son to be subject to the social media, paparazzi, and social pressures of the type of lifestyle his father has chosen to live. Because of Camille Grammer's publicizing her relationship with Dimitri on The Real Housewives of Beverly Hills, Dimitri is now being referred to all over the Internet as a "Boy Toy..This negative publicity is harmful and devastating to the self-image of our nine-year-old son."
Article continues below advertisement
Lisa has no reason to worry about the fast-paced world of Hollywood because, "Camille has never met Marcus! Camille thinks it's just too soon to meet him, even though she has been dating his dad for almost eight months," a source close to the situation tells us.
"Camille is fully supportive of Dimitri's relationship with Marcus, and would love to meet him one day when it's appropriate. Camille has been through her own custody battle with her two children, and her ex-husband, Kelsey Grammer, and Camille knows that the children come first, period. Dimitri can't believe how down to earth and level headed Camille is, it's not what he has been used to at all," the source says.
Dimitri's ex alleges that Camille broke up the relationship, and says in the court docs, "At the same time we were together and had a life together in Dallas, he deceived me and my son and was having an affair with Camille Grammer, always denying to me in several discussions that he was cheating."
However our sources tell us, "this is categorically false. Dimitri had broken up with Lisa prior to getting involved with Camille, there was no affair, cheating, period. The relationship had been over for a while. Look, they had dated for 11 years, and the only reason Dimitri stayed was because of Marcus. Lisa is using their son as a weapon against Dimitri because she can't stand the fact that Dimitri has found someone else," the source says.
Article continues below advertisement
Chynoweth also complains that Dimitri "has had the money to buy 44 dozen roses for his new girlfriend, Camille Grammer, but he can't pay the court ordered $5,000 as ordered by the court."
Grammer decided to quit The Real Housewives of Beverly Hills because producers wanted "her to have Dimitri on the show, and have their relationship play out on camera, along with her children. Camille was steadfast on her decision to not put that part of her life on the show, and she ended up walking away, not many people would do that. No one told her to do that, not a judge, her lawyers, Dimitri, that was Camille's decision," the insider says.
The former couple has joint custody of Marcus and "Dimitri splits his time between Los Angeles and Dallas. He never misses any custodial time with his son, and he is a dedicated dad. Dimitri feels awful that his ex is trying to drag Camille through the mud, but she loves him, and this has only brought them closer together. Camille doesn't have any ill will towards Lisa, she only wants Marcus to have a loving relationship with both of his parents," the source says.