Camille Grammer: 'Thank You Kelsey, For The Gift Of Humiliation'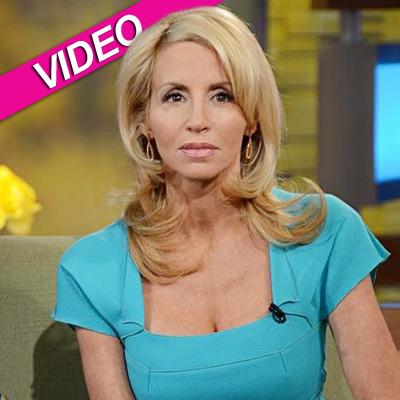 Kelsey Grammer must be eating his words Tuesday.
The actor famously told Piers Morgan that getting his now ex-wife Camille Grammer a spot on Real Housewives of Beverly Hills was his "parting gift" in their doomed marriage, as she "always wanted to be famous."
But the fame wasn't all it was cracked up to be, as Camille's worst days were reduced to reality TV fodder after Kelsey, 56, ran off with young flight attendant Kayte Walsh, 30, now his wife.
Article continues below advertisement
"Since my ex said it was a gift," Camille told Good Morning America on Tuesday, "Thank you Kelsey, for the gift of humiliation for the first season."
Camille, who is done with the Bravo show after two tumultuous seasons, said, "The first season was horrible because they were filming during the worst year of my whole life.
"My husband left me, he was having an affair with a woman in New York City while I was filming, and it couldn't get worse than that."
Camille, 43, said ultimately, her exodus from the show boiled down to protecting her privacy, nearly impossible to do with TV cameras leering over one's every move. The former model said she no longer wanted to film her "children and relationship, because I believe certain things should remain private and sacred."
Hmmm ... don't forget, RadarOnline.com broke the real reason Camille left, as a source told us she "was miffed that she was only being asked to come back as an occasional guest, and not part of the regular cast.
Article continues below advertisement
"Camille feels like producers are retaliating against her because in season one she was portrayed as the villain, but during season two, as her life calmed down because most of her divorce drama was finished, she was in a much better place, and very happy," the source said.
"Camille doesn't need to be on the show and she turned down the offer. She thanked the producers for putting her on the show and she is moving on with her life."
On GMA Tuesday, Camille danced around the issue, saying the offer the show's producers ultimately gave her "was not one that I was comfortable with after being on the show for two years as a main housewife."
Camille called her new love, boyfriend Dimitri Charalambopoulos, "a really good guy, a sweet heart."
"Being in a new relationship is exciting and difficult and there's some things you really want to remain secret," she said. "And I don't think my ex would have signed off on it and I didn't feel comfortable exposing my kids."