Exclusive
Taylor Armstrong Is A 'Role Model' For Abused Women, Says Her Doctor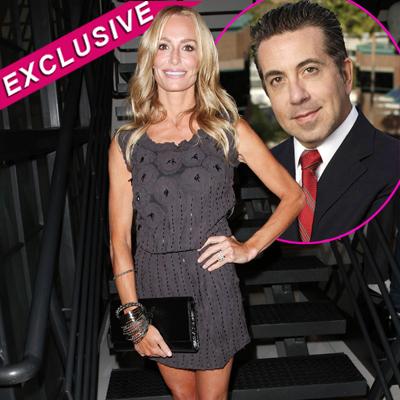 By Jen Heger - Radar Legal Editor
Real Housewives of Beverly Hills star Taylor Armstrong finally admitted to cast members on the show Monday night that her then husband, Russell Armstrong, had abused her, and now, her psychiatrist, Dr. Charles Sophy, who appears on the Bravo show with the Texas beauty, says she is a role model for abused women.
Taylor, with Dr. Sophy at her side, said the beating she'd just endured from Russell "was the last straw" in their marriage. Dr. Sophy provided marriage counseling to Taylor and Russell on the show, prior to the reality star's tragic suicide.
Article continues below advertisement
Taylor Armstrong's Shocking Black Eye Photos
"Over the last six months I've been acting like a crazy person, and I couldn't keep the lid on it anymore and I just started to act out all over the place and I'm sorry," said Taylor, whose face was caked in makeup to conceal her bruises on Monday's episode. "Things got physical and I got hurt."
Dr. Sophy tells RadarOnline.com exclusively: "Taylor's situation is, unfortunately, typical of many abused women. Addressing the situation is a difficult process that involves self-discovery, thoughtful introspection and, ultimately, moving forward to become a much stronger person. A woman who has been in a physically abusive relationship needs to work through the self-loathing, guilt and embarrassment they may feel, and they must be clear that the abuse is not their fault and that it's unrealistic to think they can change the man who is behaving so violently. It's a process for Taylor, just as it is for any other woman who has been abused."
In the limousine on the way to the grand opening of fellow Housewife Lisa Vanderpump's restaurant, Sur, Taylor credits Dr. Sophy with giving her the support and courage to admit that Russell had badly beaten her, and that she had finally left him for good.
The Beverly Hills doc is the moderator for the ladies as Taylor explains her bizarre behavior. At one point, Adrienne Maloof kept interrupting Lisa, and Dr. Sophy said, "You need to let Taylor speak. Let her speak."
Article continues below advertisement
Taylor also made amends with longtime rival Camille Grammer, who earned Taylor's scorn earlier in the season when alluding to her abusive situation to the other housewives.
"You were telling the truth and you ended up getting blamed for that because I wasn't strong enough," Taylor told Camille. Grammer accepted the apology and understood the reason for Taylor's actions.
This season of the show has closely documented Taylor's shaky relationship with her late husband, who she claims abused her throughout their marriage. The 47-year-old businessman was found hanged at a Los Angeles home August 15, after the show's second season was taped.
Taylor Armstrong Reveals On Camera On RHOBH That Russell Armstrong Beat Her
Real Housewives Of Beverly Hills Season Two Reunion Filmed: Without Kim Richard